The GloWild Lantern festival at the Kansas City Zoo is a temporary exhibit of beautiful, glowing silk lanterns throughout the zoo.
In partnership with Zigong Lantern Group, the world's premier lantern manufacturer, GloWild illuminates the Kansas City Zoo with custom handmade lighted sculptures, including a few that can be walked through and others that have moving parts.
In addition to the menagerie of animal-themed lanterns, guests are also treated to special performances by Chinese acrobats.
We've compiled the complete guide to the KC Zoo GloWild Festival to help you determine if it's worth visiting and to help you plan your visit.
Let's jump in and answer all your questions, starting with the most important one, is GloWild worth visiting?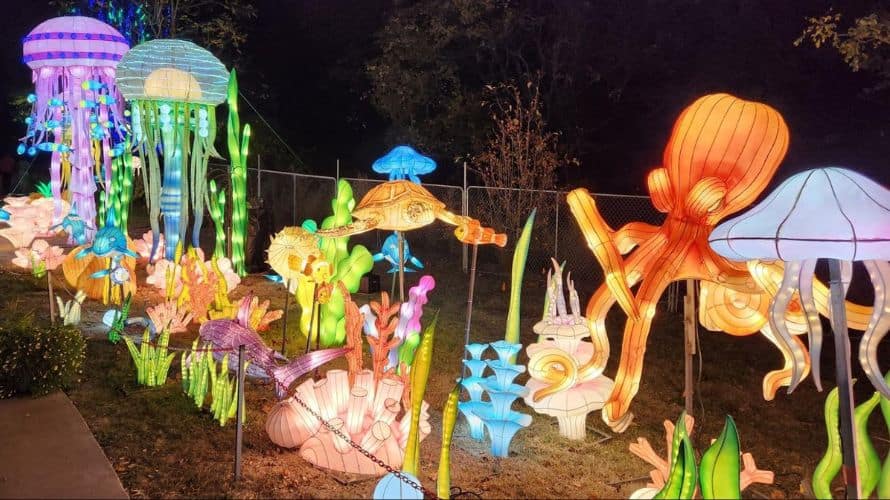 Is KC Zoo GloWild worth it?
Yes, GloWild is absolutely worth visiting at least once while it's at the Kansas City Zoo. The entire one-mile route is packed with hundreds of gorgeous silk lantern flowers and animals.
GloWild is a lantern festival like no other, featuring massive handmade steel and silk works of art depicting animals, local landmarks, botanicals, and Asian cultural creations.
Music plays throughout the route that perfectly immerses you into each scene. Many of the trees and bushes along the route are wrapped in Christmas lights, heightening the beauty of the experience.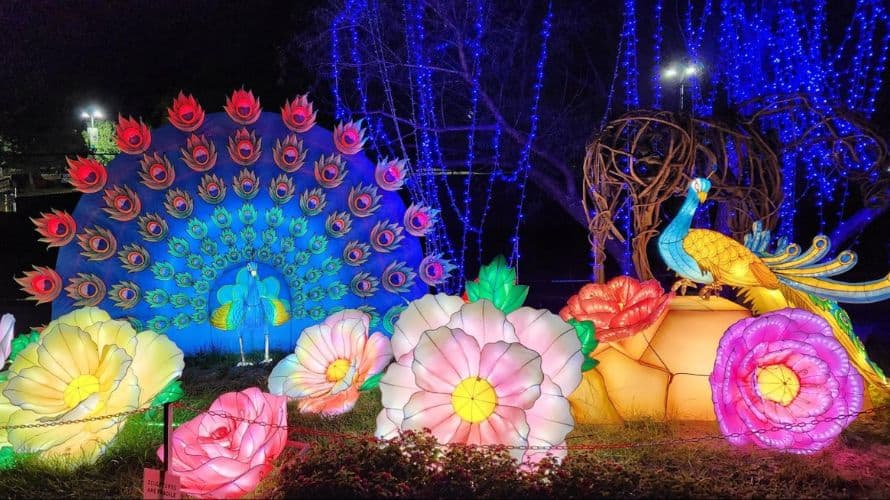 This uniqueness of the lanterns alone would be worth the cost of admission, but GloWild significantly enhanced the experience with the addition of a live performance mid-route.
Two Chinese acrobats perform a 30-minute show complete with daring stunts of strength and agility. Their performance will shock and amaze you.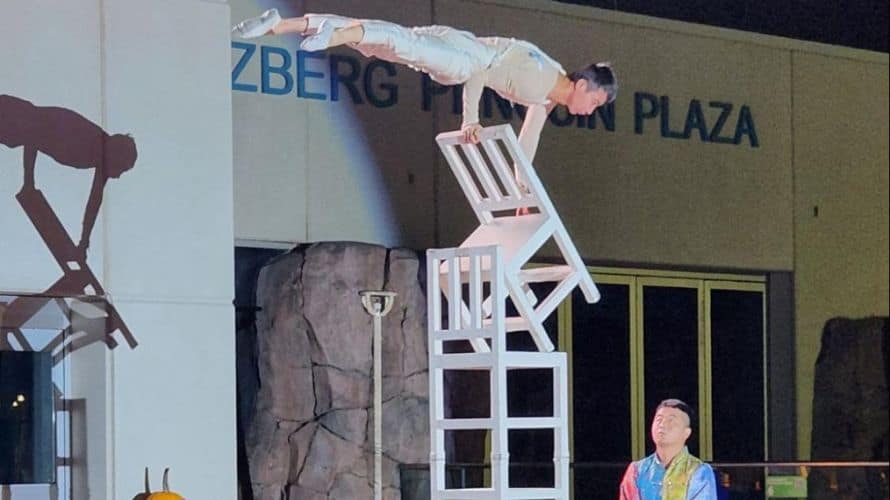 Additionally, the Penguin Plaza is transformed into a Chinese market where you can purchase beautiful handmade goods from Chinese vendors.
There are also food and merchandise vendors open for the purchase of food items like pretzels and snow cones and fun items for the kids like glow necklaces and swords.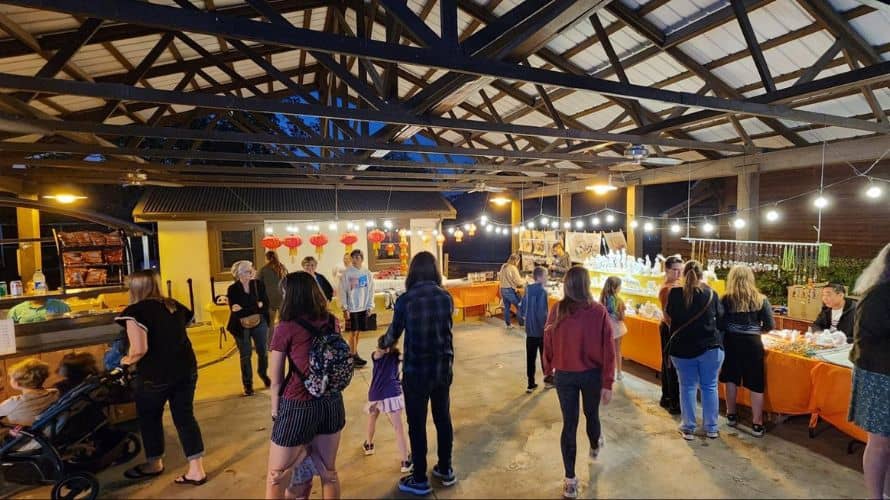 How much does the Kansas City Zoo GloWild cost?
GloWild is not a cheap activity, but considering everything included in the experience, it's very reasonable. Tickets range from $18 – $25 per person, depending on the attendee's age and day of the week.
Children 2 and under are free, and families of four can save a few dollars by purchasing a family four-pack of tickets. We paid $75 ($72 plus a $3 convenience fee) for our family of four to attend on a Thursday night.
To save a little money on your GloWild tickets, we suggest visiting the event on an off-peak evening. You'll save about $5 per ticket if you visit on a Sunday, Tuesday, Wednesday, or Thursday evening.
Friday and Saturday evening tickets are the most expensive so avoid those nights if you're on a budget.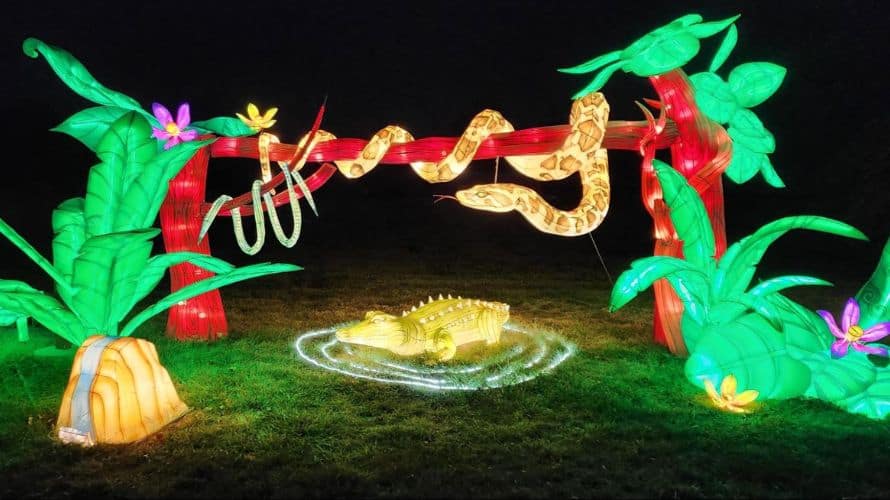 Are advance tickets required?
Yes, you are required to purchase your tickets for GloWild in advance. Once you purchase tickets, there are no refunds offered.
You can choose from evening entry times that require a separate timed ticket from daily zoo admission.
You are allowed to reschedule your tickets to be used on another date, but it requires a $5/ticket fee.
To avoid scheduling issues, we recommend checking the weather forecast and purchasing tickets 1 – 2 days before the evening you plan to visit.
The only exception is the week of Thanksgiving, which we anticipate to be a very busy week for GloWild.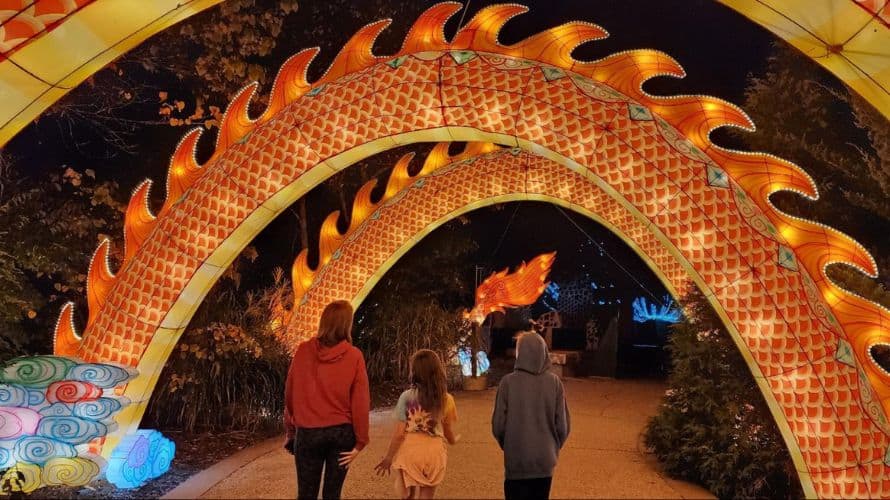 When are the special performances?
The live Chinese acrobat performances are held at 6:30, 7:30, and 8:30 pm each night the festival is open.
The performances are held at the Helzberg Penguin Plaza in front of the Carousel, which is about halfway through the one-mile route.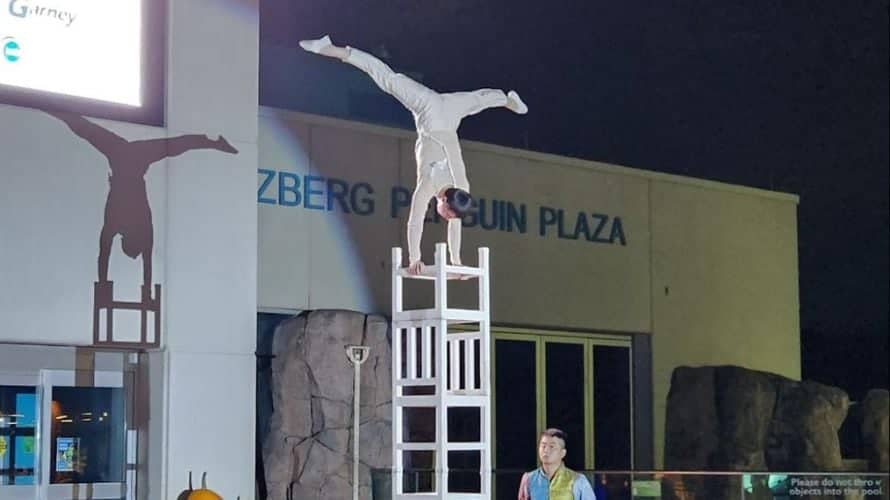 Each performance lasts about 30 minutes long, and while there is ample seating throughout the Plaza, if you want a good view of the performance, you will need to stand or sit on the concrete in front of the roped-off area where the acrobats perform.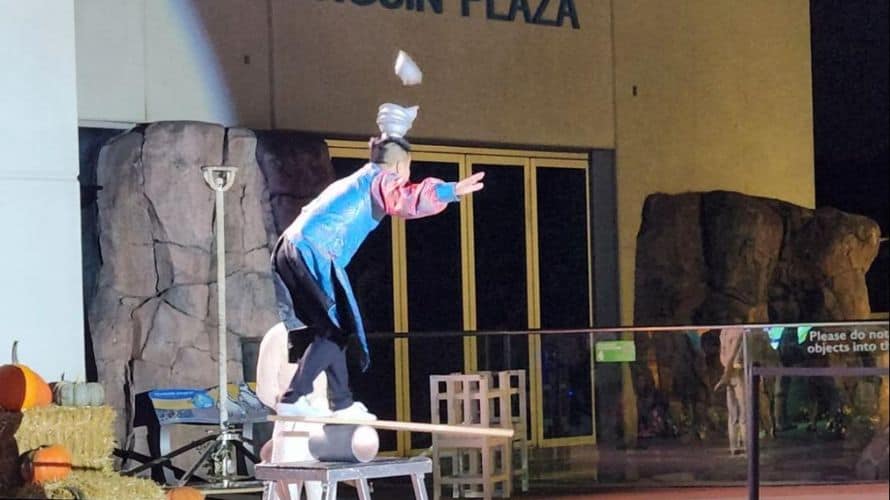 How long does KC Zoo GloWild take?
The GloWild route is one mile long and will take about 1 to 2 hours to complete.
Keep in mind, this will vary greatly depending on what you and your group decide to enjoy along the route.
If you are able to enjoy one of the Chinese acrobat performances, that will add about 30 minutes to your experience.
If you stop and grab a drink or snack, or browse the handmade goods at the Chinese vendors, that will also add to your experience.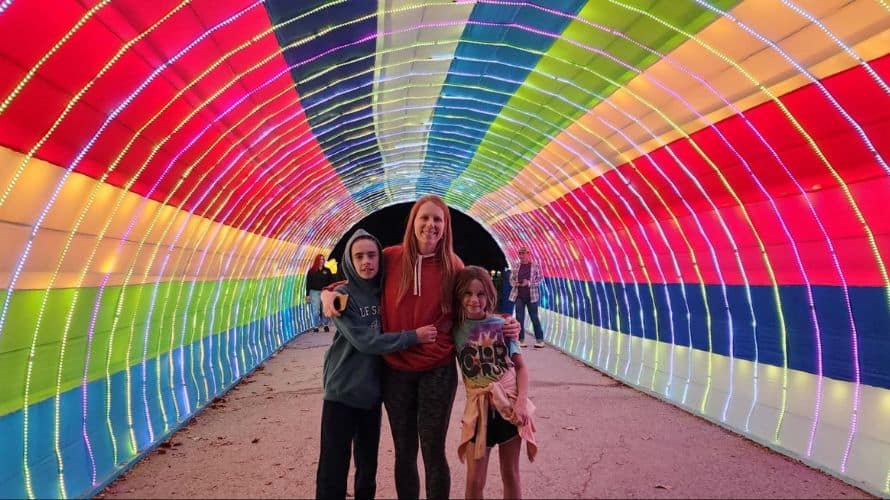 During our visit, we arrived shortly before dusk and during the first half of the route, it was still light outside.
This allowed us to see the elephants, but once the acrobat performance was over, we decided to walk the first half of the route again so we could see everything in full darkness.
We were very glad we walked the first half again as it was a very different experience once the sun was down.
Our total time at the KC Zoo GloWild Festival was a little under 2 hours. We did not purchase food, drinks, or merchandise during our visit.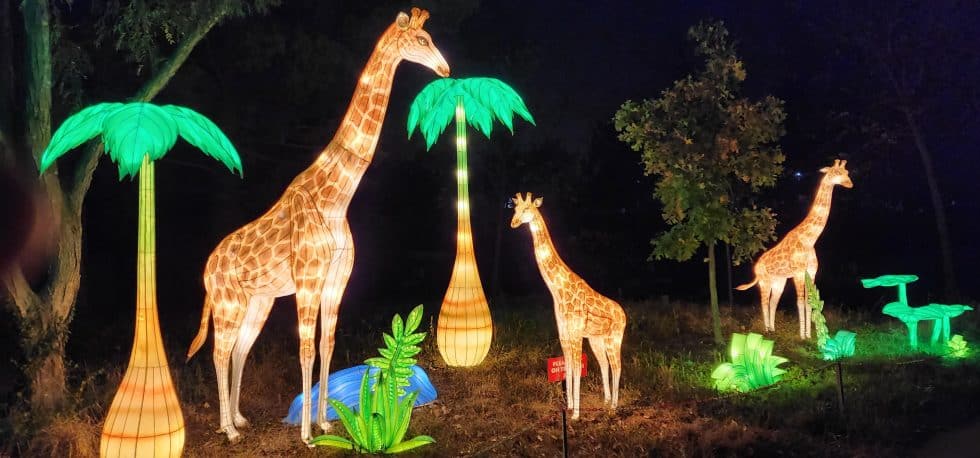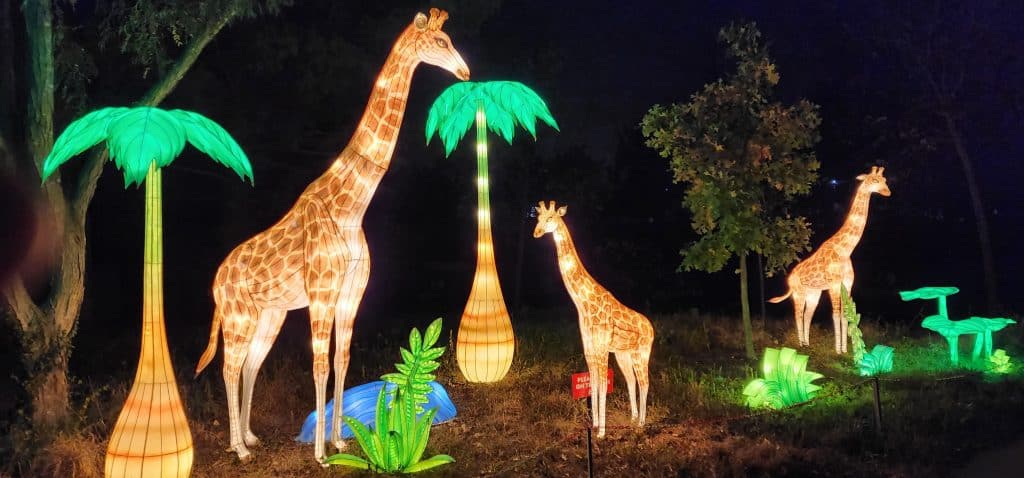 Is Food Available at KC Zoo GloWild?
There are multiple food and beverage locations open throughout the GloWild route.
The Beastro Cafe inside the main entrance and the Tuxedo Grill in Penguin Plaza are the main eateries open.
If you'd like to enjoy an alcoholic drink during your visit, there's a Boulevard cart open near the start of the route where you can purchase beer and hard seltzer for $11.
You will also find various food vendors in the Penguin Plaza serving up pretzels, snow cones, Dippin' Dots, and more.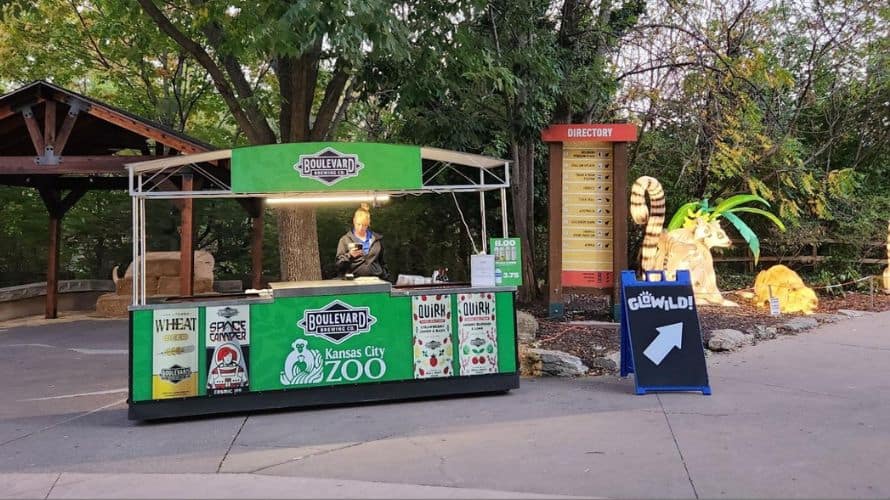 Keep in mind, healthy food options at GloWild are non-existent. If healthy eating is important to you, luckily, the zoo allows guests to bring their own food and drinks.
Our neighbor wisely packed a picnic dinner for her family to enjoy in the Penguin Plaza while they watched the Chinese acrobats perform.
Her family had a healthy meal, she kept her young kids entertained, and she didn't have to wait in a long line with hungry children whining for food. Talk about a parenting WIN!
Will I See Animals during KC Zoo GloWild?
The zoo warns that most animals will be in bed during the event and will not be available for viewing. All animal buildings are closed during the event, and most areas are roped off and not available for viewing.
However, during our visit, we were able to see swans, elephants, alligators, and heard the sea lions barking. It was also possible to see otters, orangutans, and the polar bear, but all three were sleeping or hiding while we were there.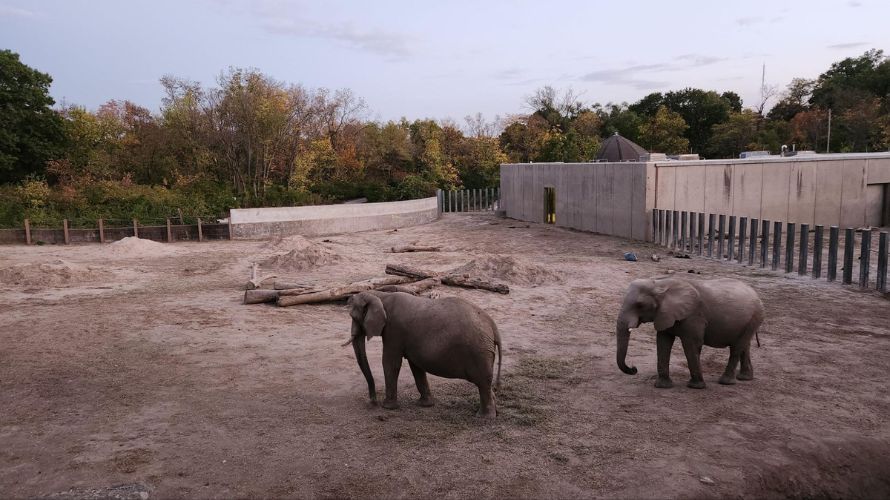 If seeing a few animals is very important to you, we recommend attending before daylight savings and purchasing a ticket for earlier in the evening before dusk.
Once it gets completely dark, it will be very difficult to see any animals at all.
What if there's bad weather?
GloWild is held rain or shine, so make sure you dress appropriately. Remember that temperatures drop quickly this time of year when the sun goes down so bring extra jackets and sweaters for everyone in your group.
If it's raining, there's a chance the Chinese acrobats either can't perform or will alter their performance to ensure their safety.
If there's a chance of rain during your visit, we suggest calling the Zoo to confirm if the live performances will still be held.
If not, it's worth paying the $5 per ticket rescheduling fee as the performance significantly enhances the value of the event.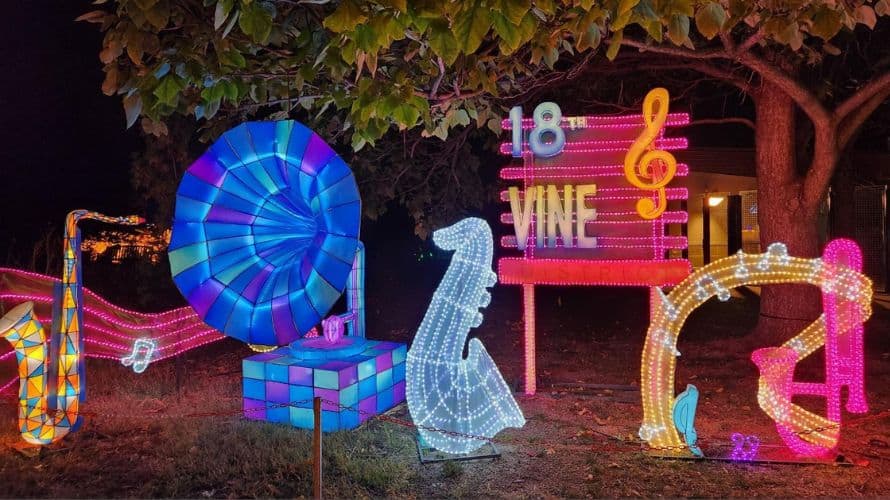 Is it wheelchair accessible?
Yes, the entire route of the GloWild experience is wheelchair accessible.
If someone in your group is unable to walk the entire GloWild route, you can rent a scooter, stroller, wheelchair, or wagon. ECV scooters require 24-hour advance registration.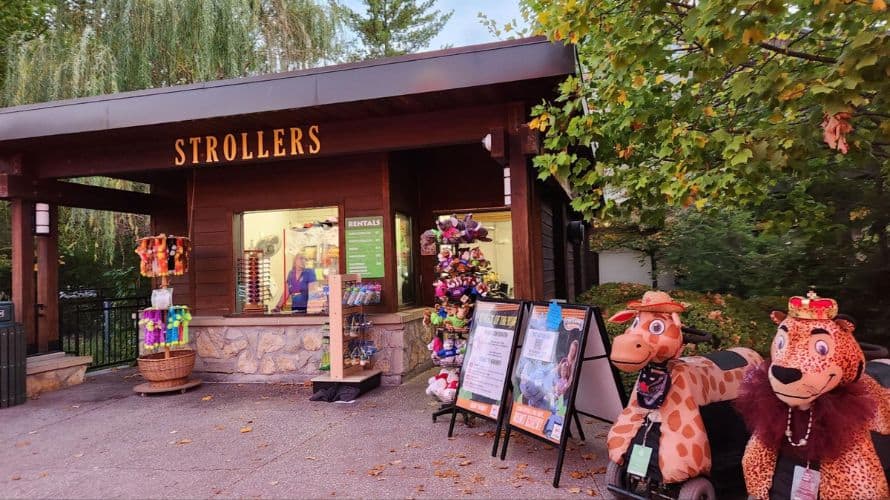 Where can I park?
Parking for the event is free and plentiful. We attended on a Thursday evening, and there were plenty of spots available in the lot directly in front of the Zoo entrance.
If you attend on a peak evening, there will be parking attendants to help you find a parking space.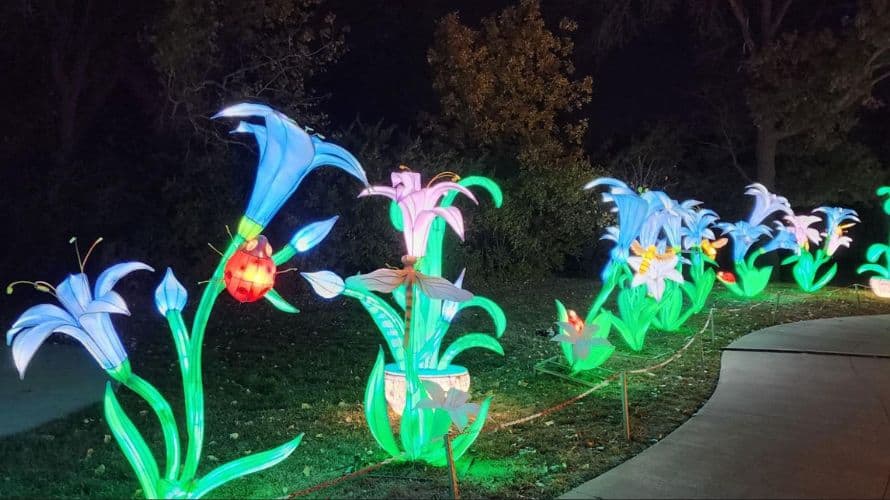 What are KC Zoo GloWild Hours?
GloWild is open nightly from 6:00 pm – 10:00 pm from September 1st through December 11th, 2022.
The last ticket time sold each night is 8:30 pm, and the last entry into the event is at 9:00 pm.
The event is closed on Monday nights with the exception of November 21st, which is the week of Thanksgiving. You can access the GloWild operating calendar here.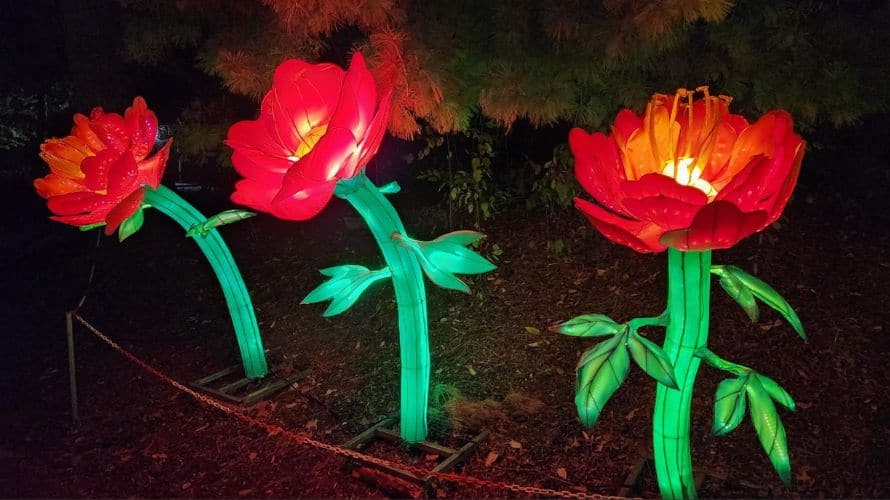 GloWild for Date Night
GloWild is the perfect activity for a romantic and breathtaking nighttime event with your partner. For date night, we recommend arriving at 7:45 pm on an off-peak night and 7:30 pm on a peak night.
This will give you time to park, grab a drink at the Boulevard cart, and enjoy the first half of the route before the Chinese acrobats perform at 8:30 pm.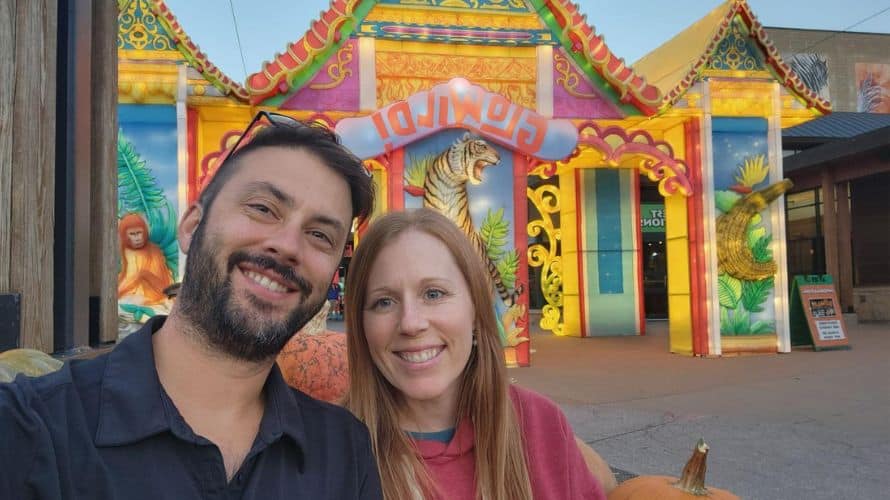 If you arrive close to 8:30 pm, skip the first half of the route and head straight to the Penguin Plaza for the performance.
Once the performance is over, it's just a short walk back to the start of the route, where you will have an hour remaining to walk the one-mile route and pursue the Chinese vendors or grab a snack in the Penguin Plaza.
Also, for this date, you'll want to dress for comfort, not style. Wear layers to accommodate dropping nighttime temperatures. You'll be doing lots of walking so make sure you both wear comfortable shoes.
GloWild for a Family Outing
GloWild is a fantastic family activity and will entertain kids of all ages.
If your kids are young, be sure to give them a heads up that they won't see any animals and all the play structures throughout the Zoo will be closed.
This will hopefully avoid a tantrum mid-route.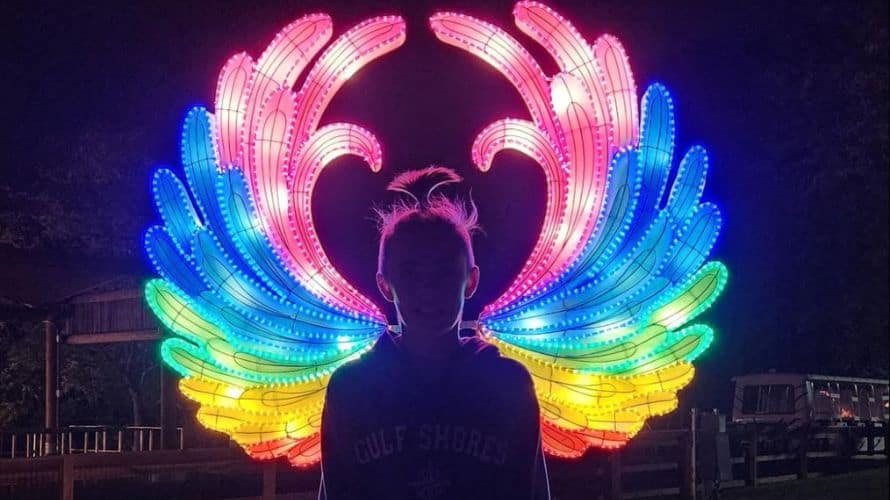 If you'd like to keep your spending to a minimum, we recommend packing a small drink and snacks for each kid and, if you have time, grab some cheap glow sticks from Walmart for the kids to wear.
This will help you avoid buying a $10 glow neckless or glow wand.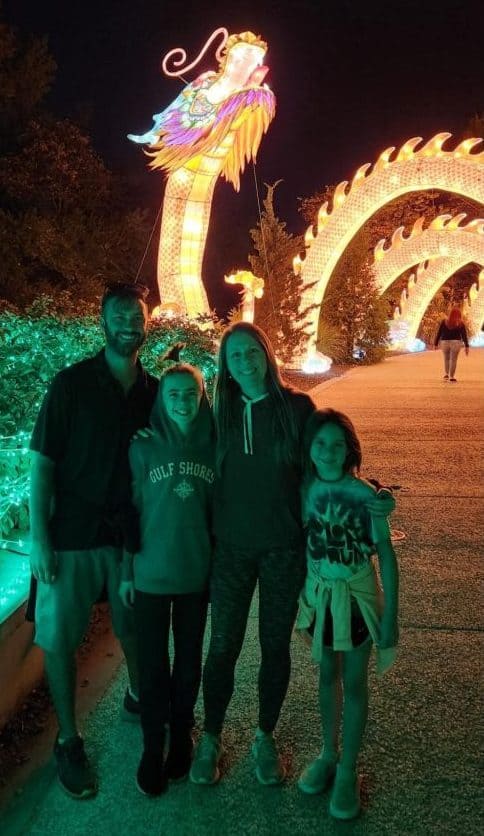 KC Zoo Brew at the Zoo
For the ultimate date night experience, consider visiting GloWild during the annual Brew at the Zoo event.
It's held on Saturday, October 15th, and tickets to Brew at the Zoo include the GloWild experience.
Brew at the Zoo is an adults-only event with live music, food trucks, and free drink sampling from more than 35 breweries and wineries.
It's a wonderful event and would make for the perfect double date.
KC Zoo Aquarium
The new aquarium at the Kansas City Zoo is set to open in the fall of 2023.
One of our favorite parts along the route was the ocean-themed tableau set directly across from the aquarium construction site.
If you visit early enough in the evening, you'll get a great view of the progress of the new aquarium building.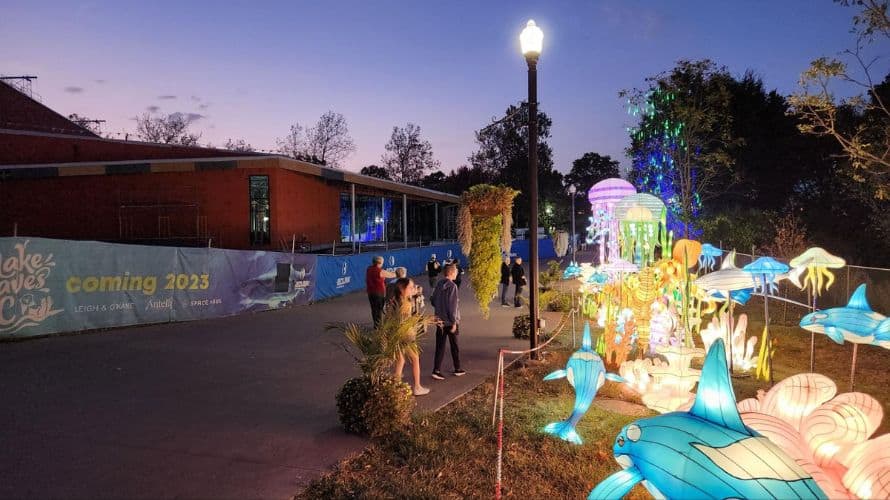 KC Zoo Map
When you arrive at the Zoo, you'll see signs near the main entrance where you can scan a QR code for a map of the GloWild route.
While this is helpful, if you're familiar with the KC Zoo, it's not necessary as the route is very clearly marked with excellent signage along the way.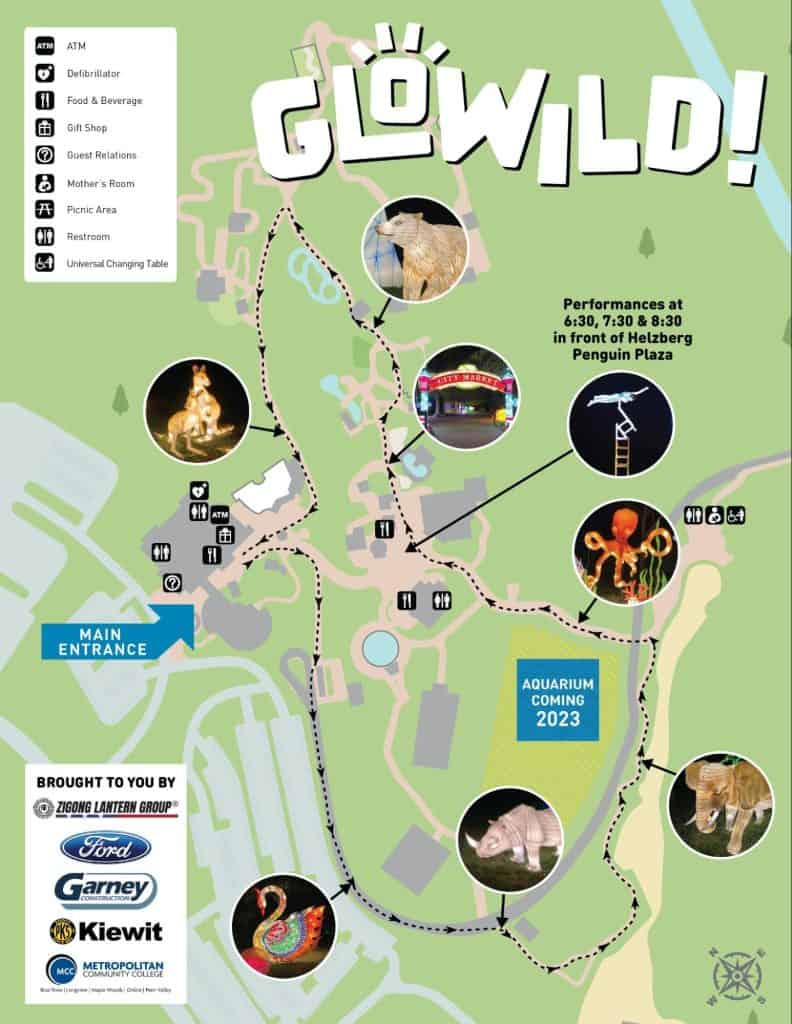 KC Zoo Membership
Members of the KC Zoo are treated to lots of different discounts and special events.
Unfortunately, GloWild is not included in memberships, and members do not receive a discount on tickets.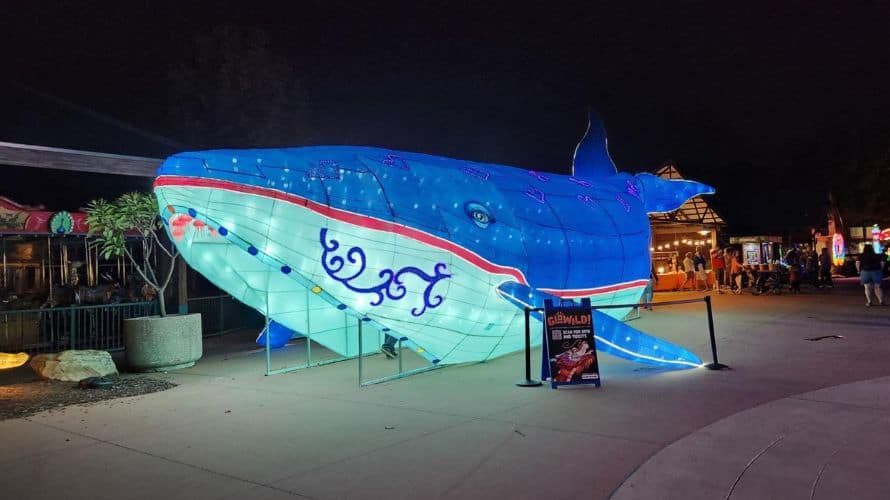 KC Zoo Halloween Event – Boo at the Zoo
If you have really young children with early bedtimes, you can still enjoy the lanterns during the daytime.
We suggest visiting the zoo during their Halloween event, Boo at the Zoo, on October 29th and 30th.
Your kids will enjoy trick-or-treating and fun activities and you can still see the beautiful silk lanterns throughout the Zoo.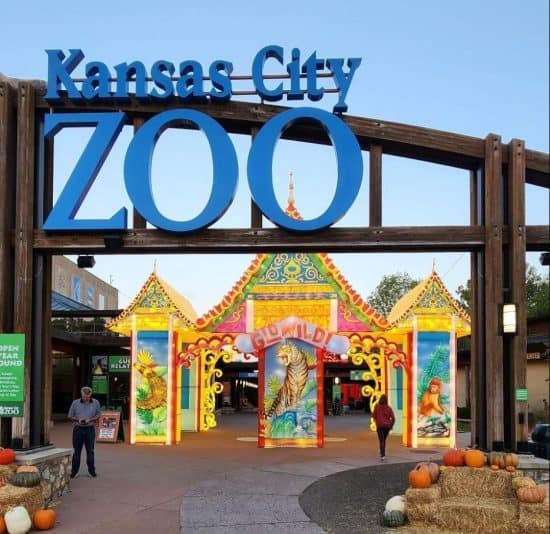 Conclusion
If you're looking for a festive, family-friendly activity or a romantic date-night activity this fall, GloWild at the Kansas City Zoo is a perfect fit. With beautiful lanterns and lights, inspiring music, entertaining performances, an immersive atmosphere, and reasonable prices, it's sure to be a memorable time for all.