Are you desperate for a date night but can't afford a babysitter?
Or maybe you're just tired of the same old dinner-and-a-movie routine.
Whatever the reason, date night at home can be just as fun — and sometimes even more so — than a night out on the town.
That's why we've rounded up 22 at-home date ideas that are not only fun and original but also super affordable and relaxing.
*This post contains affiliate links. If you make a purchase using one of these links we may receive a small commission. Please know that we only recommend products that are of the highest ratings.
There are so many reasons why at-home dates are great!
For starters, they're super convenient.
You don't have to worry about finding a babysitter or reserving a table at a restaurant.
Plus, you can save money by cooking dinner at home instead of going out.
And finally, at-home dates offer plenty of opportunities to get cozy and intimate, which is always a plus.
22 At-Home Date Night Ideas to Relax as a Couple
Whether you're on a tight budget, can't find a babysitter, or just want to mix things up, these 22 relaxing date night ideas are sure to please.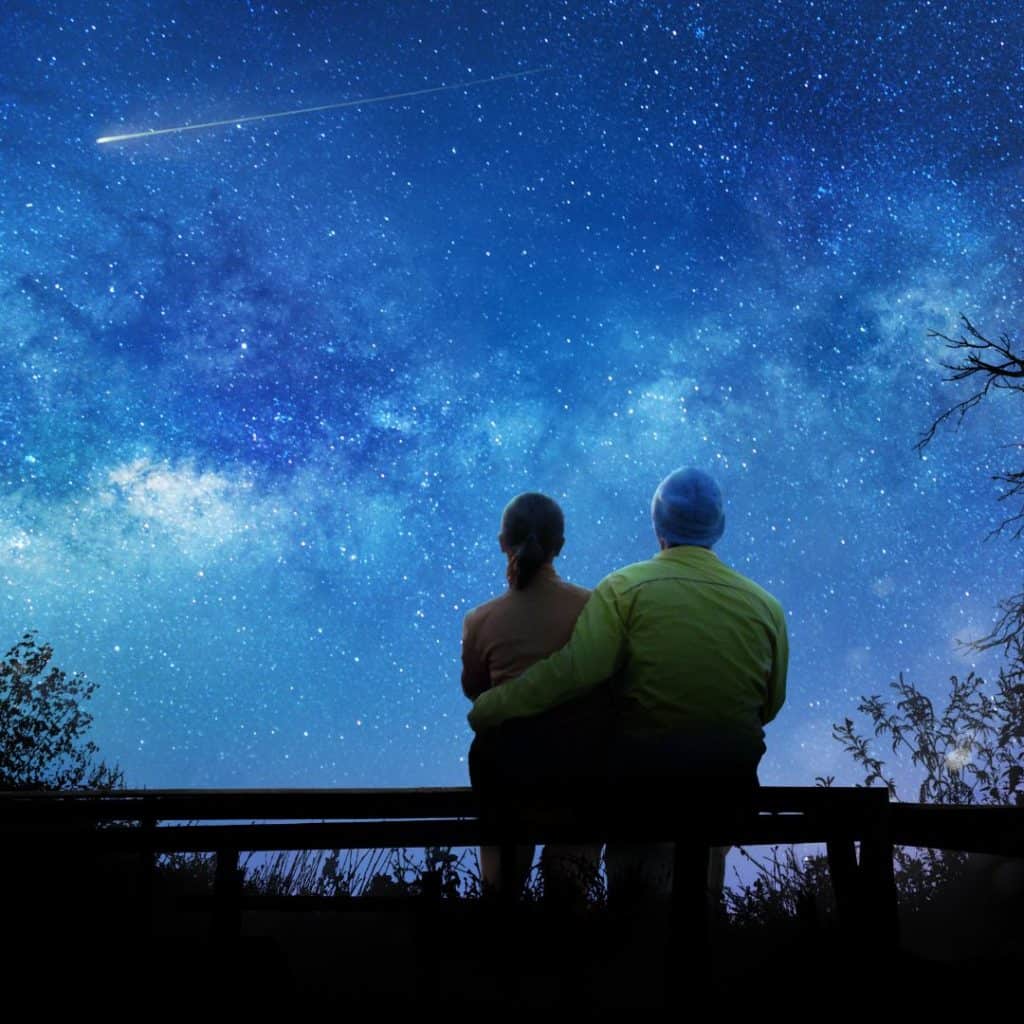 1. Stargaze
There's nothing like spending a night outdoors stargazing with someone you love.
If you're lucky enough to have a backyard that offers a good view of the sky, take advantage of it!
Spread out a blanket, lie back, and enjoy the show.
If you don't know much about astronomy, don't worry.
There are plenty of apps available for download to help you identify the constellations and planets.
Once you start learning, you may be surprised at how much there is to see in the night sky.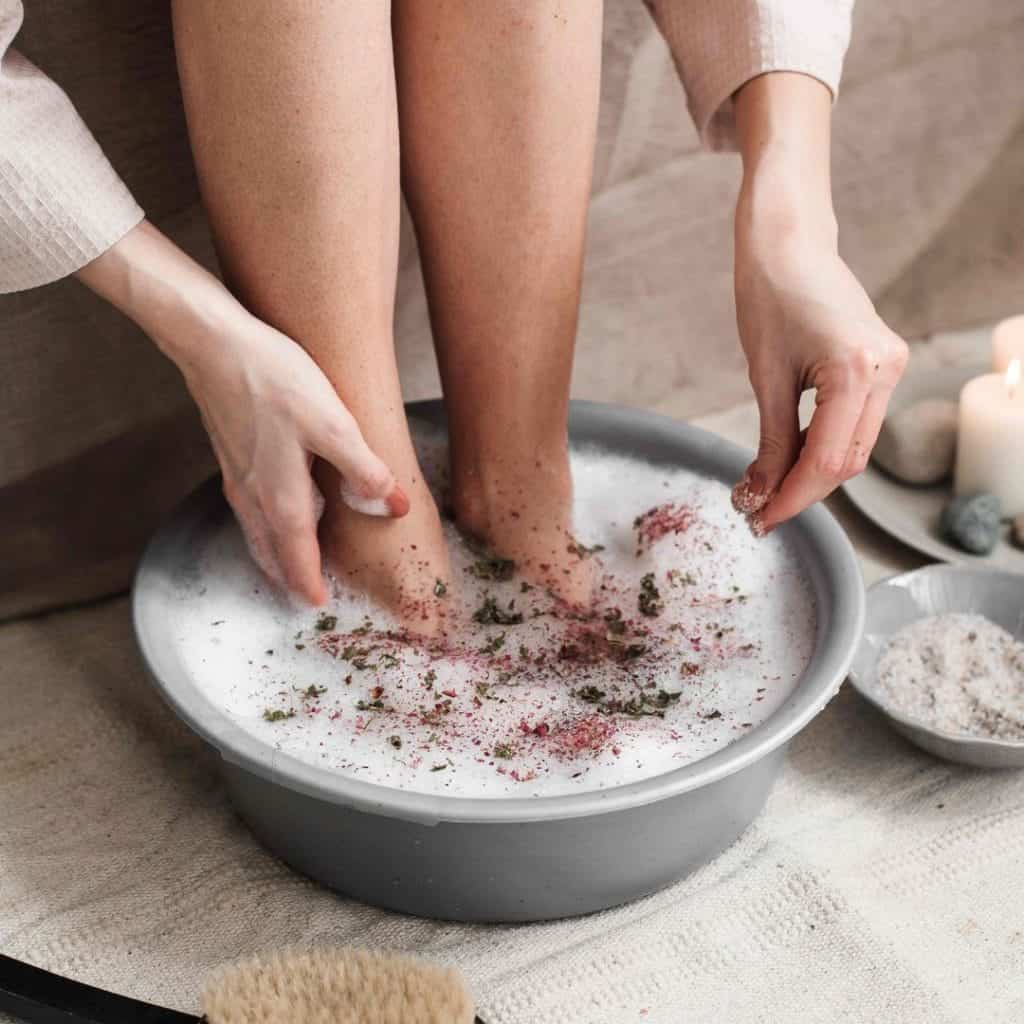 2. Spa Night
What's better than a relaxing night at home with your partner? Turning it into a relaxing date, complete with face masks, foot masks, and hand masks!
This is the perfect way to unwind after a long week and enjoy quality time together.
Plus, you'll get to pamper yourself while you're at it!
To create the ultimate spa experience, make cucumber mint water and diffuse lavender essential oils into the room.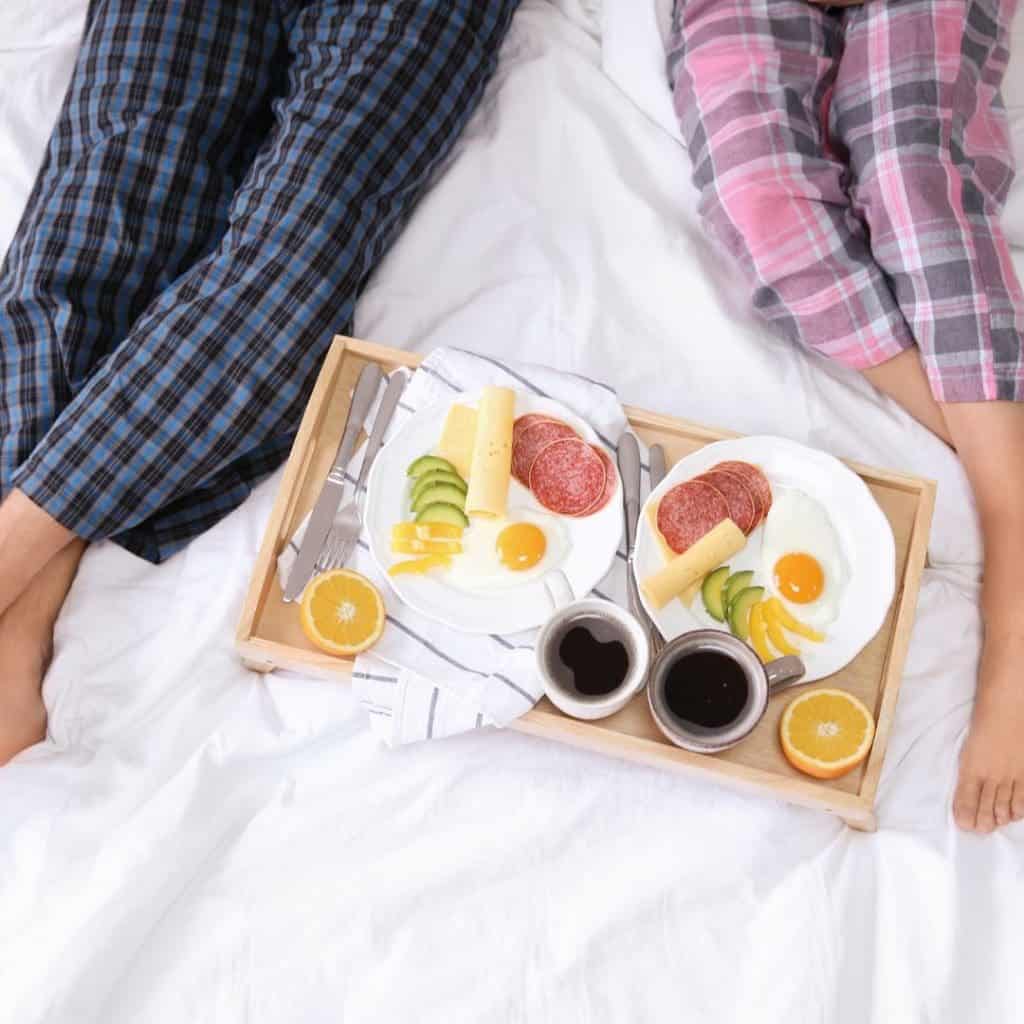 3. Breakfast in Bed
What could be more luxurious than breakfast in bed? Breakfast in bed for dinner, that's what!
Start by whipping up some of your favorite breakfast foods.
Pancakes, eggs, bacon, oatmeal, fruit, pastries… the list goes on.
Whatever you like to eat in the morning, make it for dinner!
Then, set up a little breakfast nook in your bedroom, or use this breakfast-in-bed tray and load it with all the fixings.
Candles, flowers, and a nice view will make it extra special.
Breakfast for dinner has never been so delicious!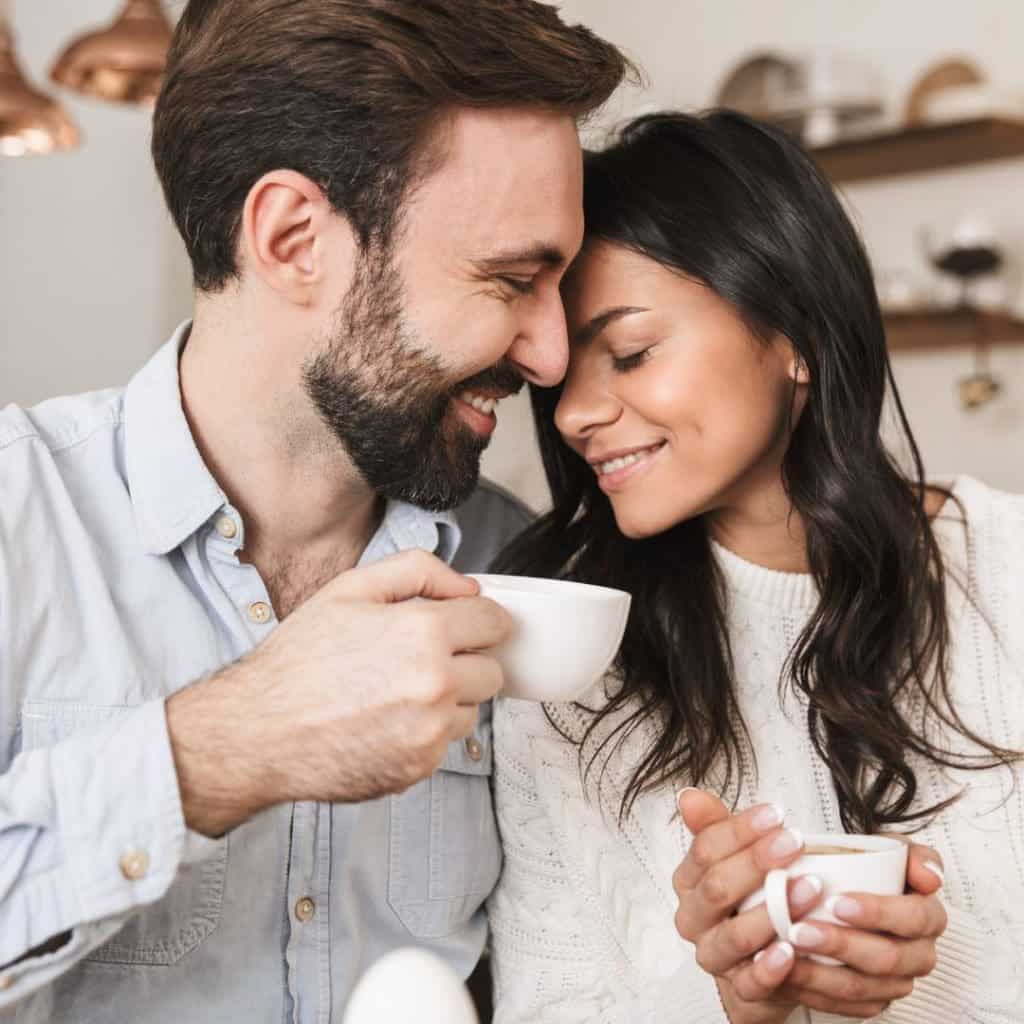 4. Create a Coffee Shop
Your living room is the perfect place to recreate your favorite coffee shop atmosphere.
By adding a few key pieces, you can create a space that feels both cozy and romantic for a date night at home.
Start by choosing a comfortable spot for your coffee station.
A small table or desk near a window makes a great spot for your at-home coffee shop experience.
Then, add a few key pieces of furniture and decor to make the space your own.
A comfy armchair or sofa is a must, along with a few cushions and throws for added comfort.
A rug can also help to define the space and make it feel cozier.
If you want to recreate that true coffee shop feeling, consider adding some greenery to your space.
A few potted plants or hanging herbs can add a touch of nature and make the space feel more inviting.
Once the space is ready, brew up your coffee or use a delivery service and have your favorite drinks delivered to your door.
Then sit back, relax, sip your coffee and enjoy some relaxing time together.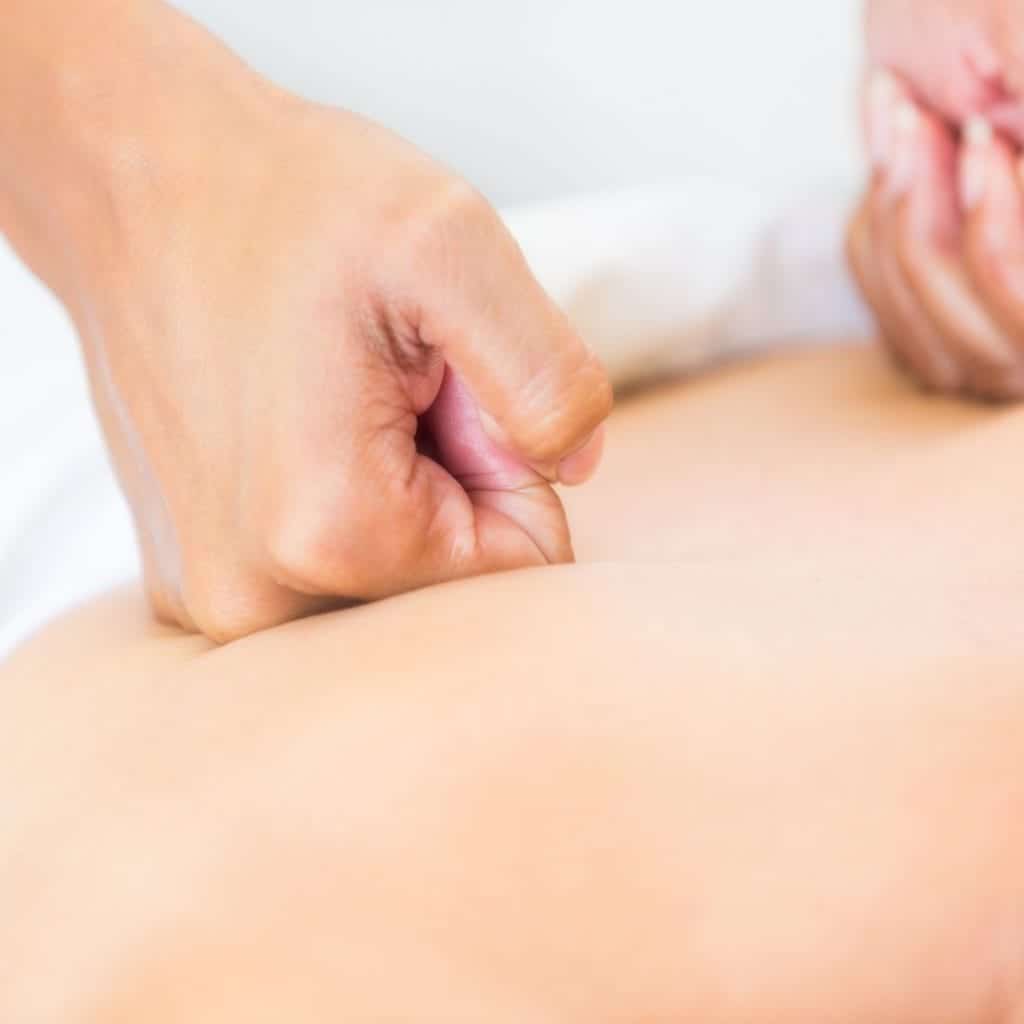 5. Exchange Massages
There are many benefits to massage, including reducing stress hormones, improving circulation,
and promoting relaxation.
If you and your partner are feeling stressed, try exchanging massages.
All you need is a bed and some good-quality massage oil.
This lavender-scented oil is our favorite.
If you want to take your massages to the next level, consider investing in a portable massage table.
The cost of the table is equivalent to one couples massage at a fancy spa, but
with your own massage table, you can get regular massages for free and a happy ending!
It may be the best investment you make all year.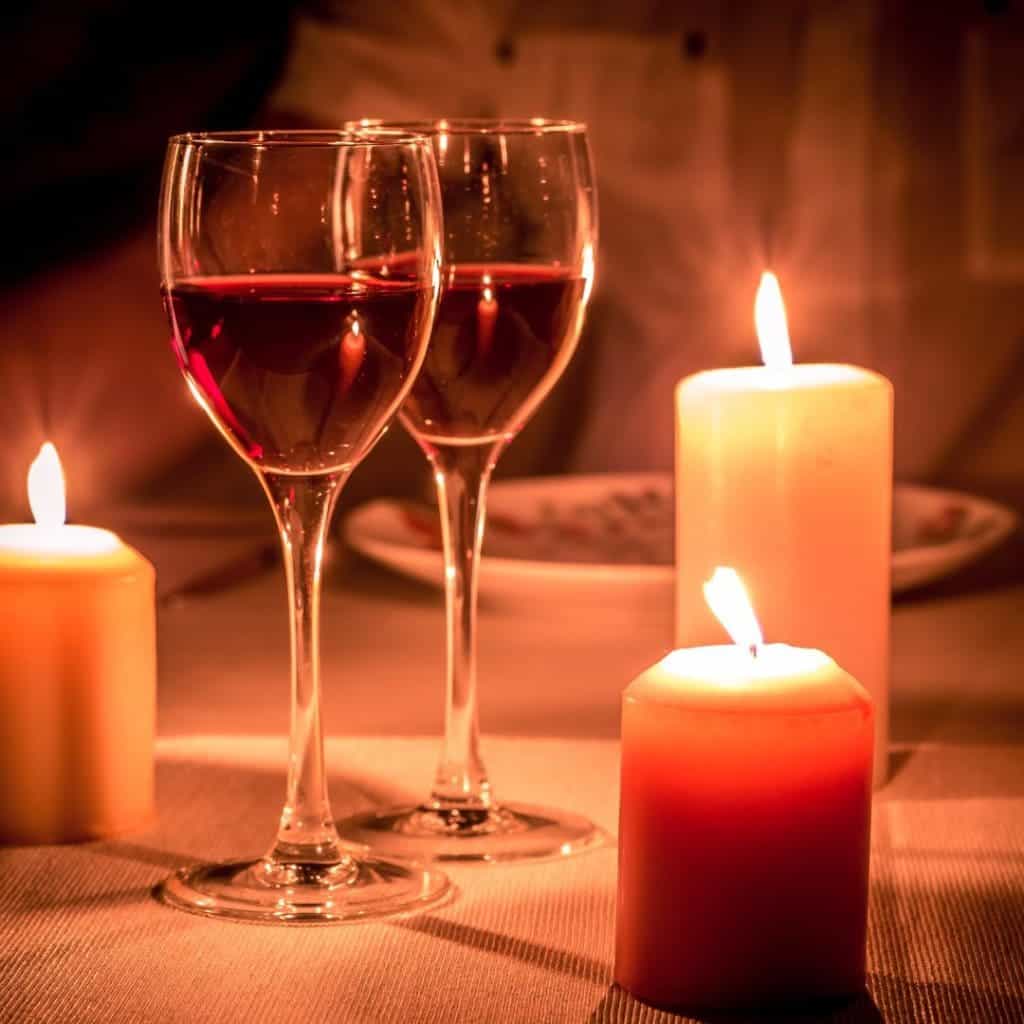 6. Candlelit dinner
If you're looking for a romantic evening, look no further than your own kitchen!
A candlelit dinner at home can be just as special as a night out on the town.
Plus, it's a great way to save money and enjoy some quality time together.
To make sure your dinner is extra-romantic, start by setting the mood with some candles and soft music.
Then, prepare a delicious meal using your partner's favorite ingredients.
Don't forget to pour a glass of wine or champagne to complete the perfect date night!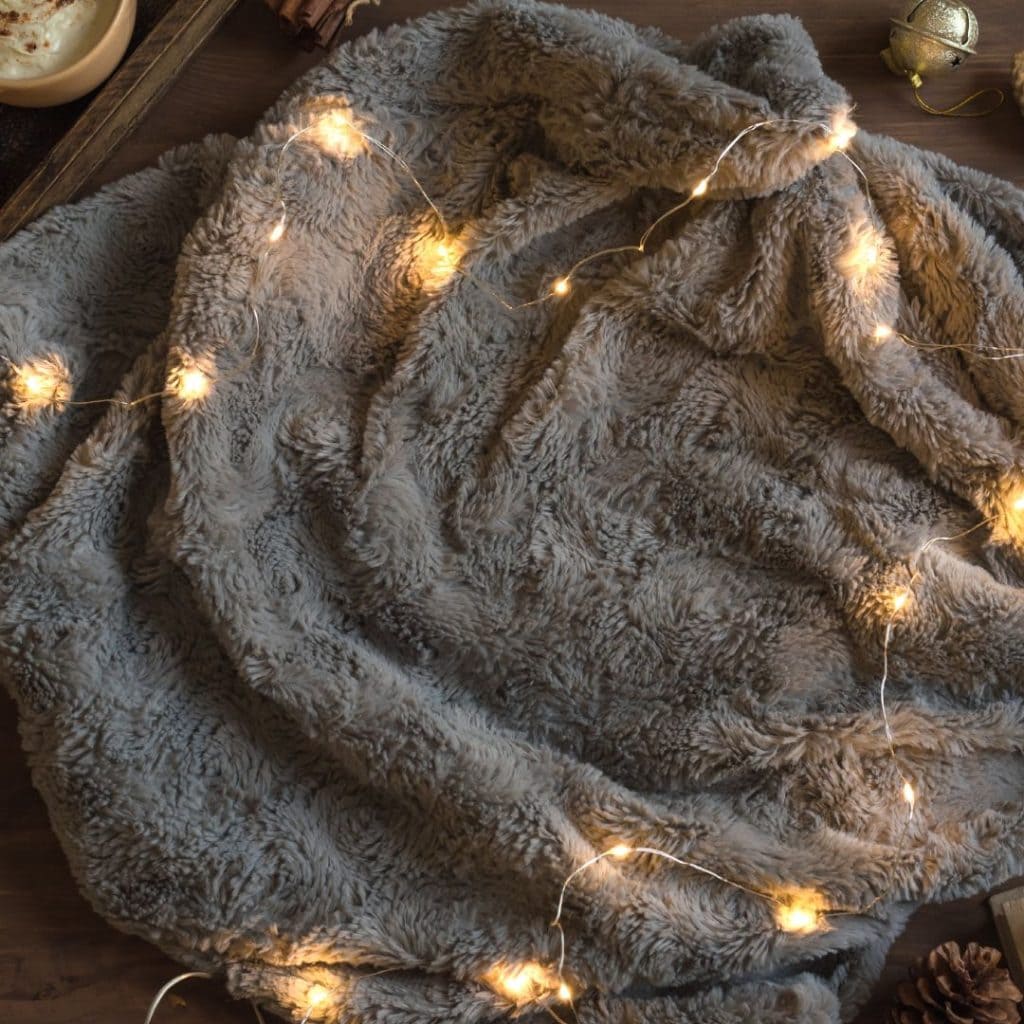 7. Hygge and Wedding Pictures
Hygge (pronounced "hoo-gah") is a Danish word that doesn't have an English equivalent.
It's often described as a feeling of coziness, comfort, and contentment.
Hygge is about enjoying life's simple pleasures and taking time to relax.
Create a cozy space in your home with fairy lights, fluffy blankets, and relaxing music.
Then, open up your wedding album and look at wedding photos together.
Relive your special day and all the happy memories that come along with it.
It's a great way to get cozy and enjoy some quality time together.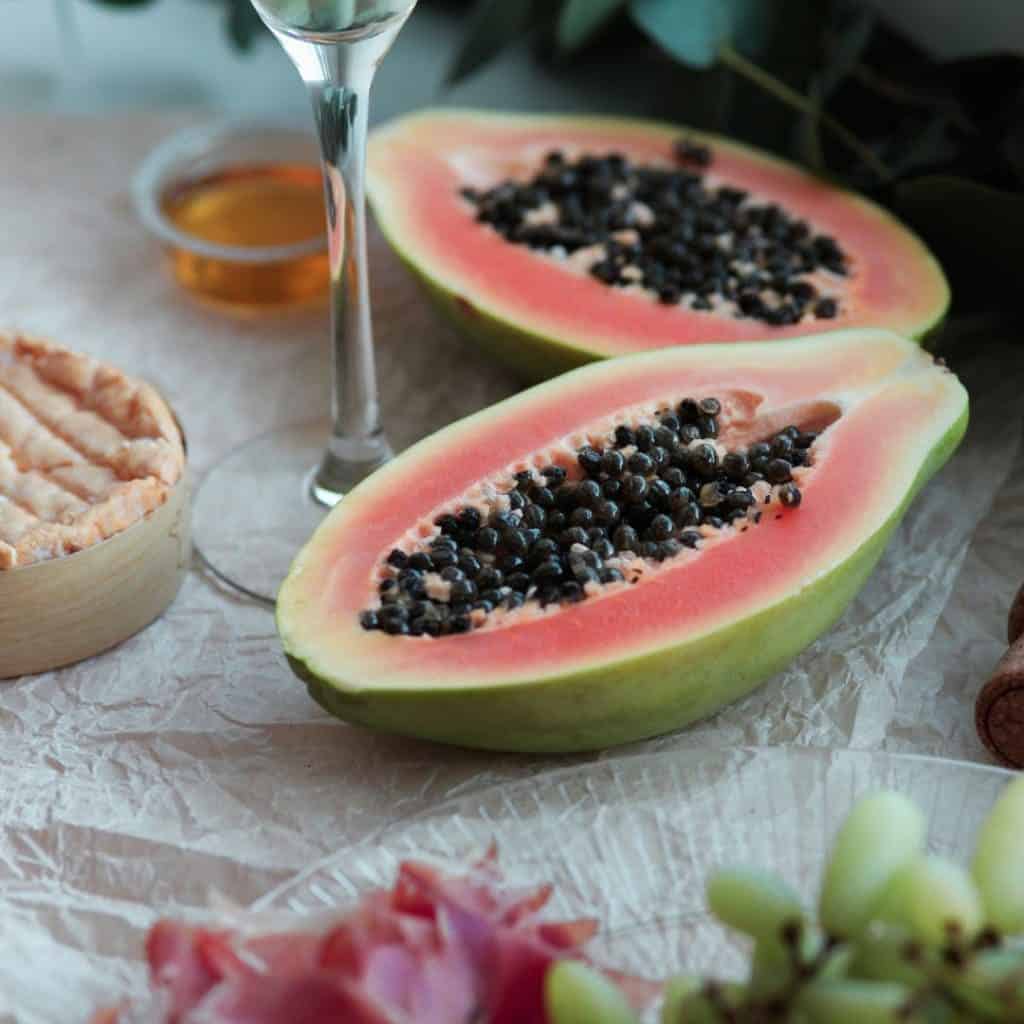 8. Indoor picnic
What's better than a picnic? A picnic in your living room!
Find a romantic spot in your home, set up a blanket and some pillows, and enjoy a picnic dinner together.
This is a perfect way to relax and spend some quality time together without having to leave the comfort of your own home.
Plus, it's a great way to save money on a date night!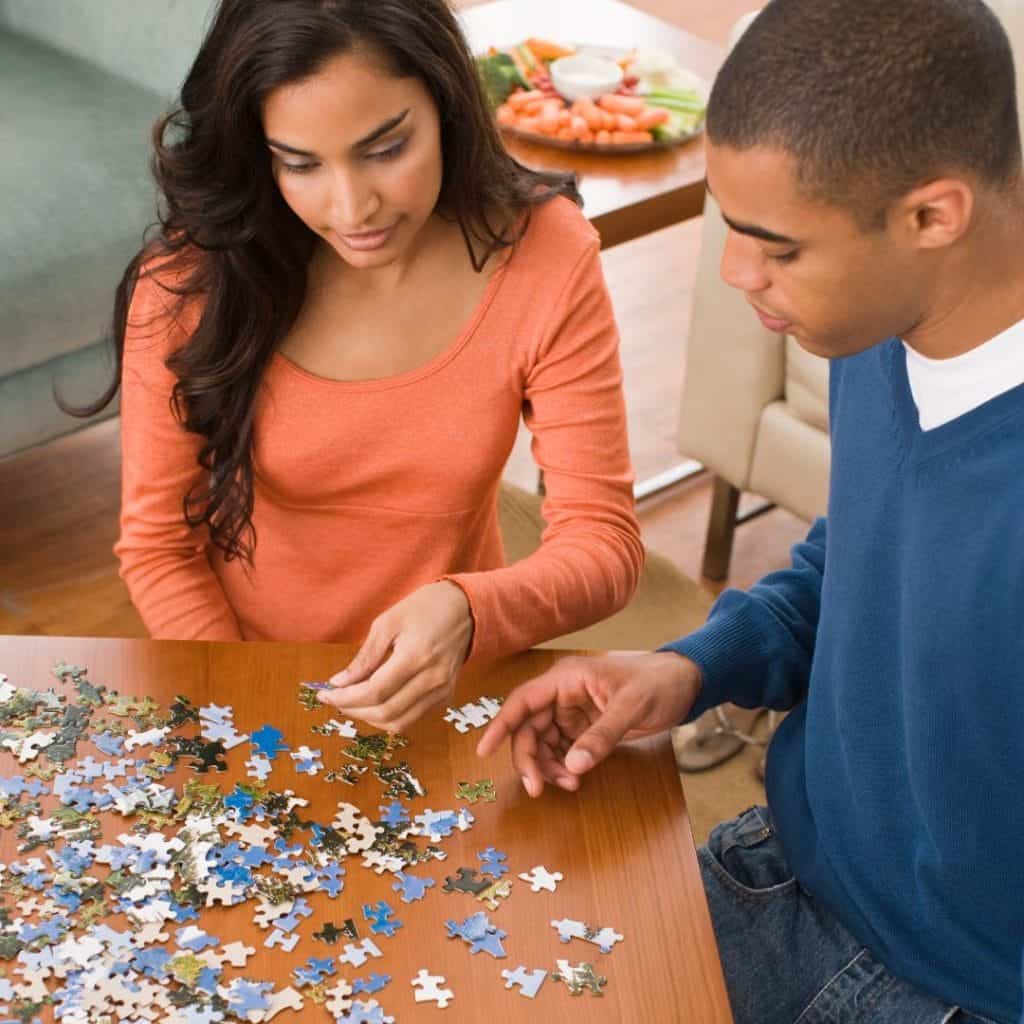 9. Do a puzzle
Doing puzzles is a great way to spend some time with your partner.
Not only will you be able to bond while working together, but you'll also get some good exercise for your brain!
Plus, it's always satisfying to see the finished product. Make sure you stick to something challenging but easy to tackle in one night like this 500 piece puzzle.
If you're lucky, that satisfied feeling will inspire you to move things to the bedroom and satisfy each other in other ways. Wink! Wink!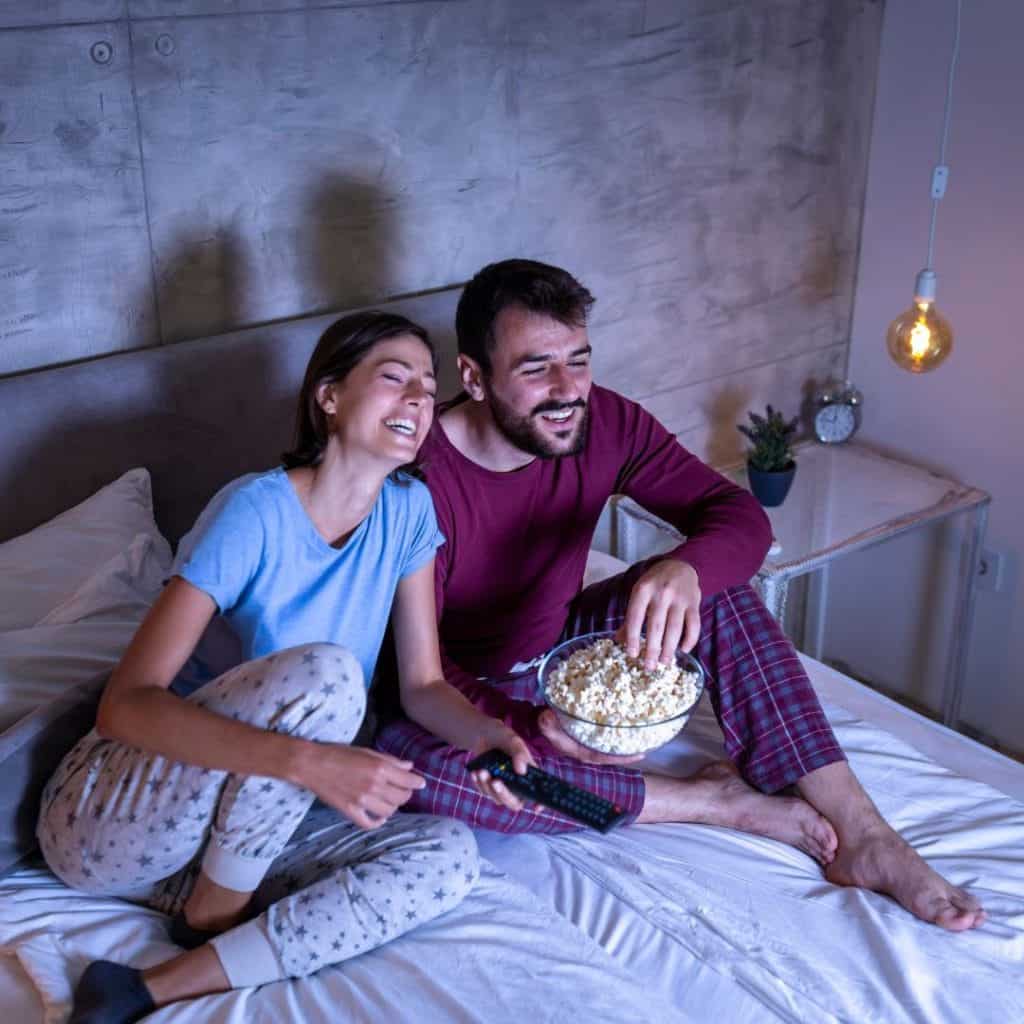 10. Rewatch Your First Movie
When you think back to the first movie you ever watched together, what do you remember most?
Was it the butterflies in your stomach as you sat next to each other in the dark theater?
Maybe it was how much you laughed at the funny parts or cried during the sad ones.
Whatever your memories are, take some time to rewatch that movie and relive them all over again.
As you do, take the opportunity to reminisce about the good old days – when your relationship was fresh, new, and filled with so much possibility.
It'll be a fun trip down memory lane and may even give you some ideas for new adventures to take together in the present.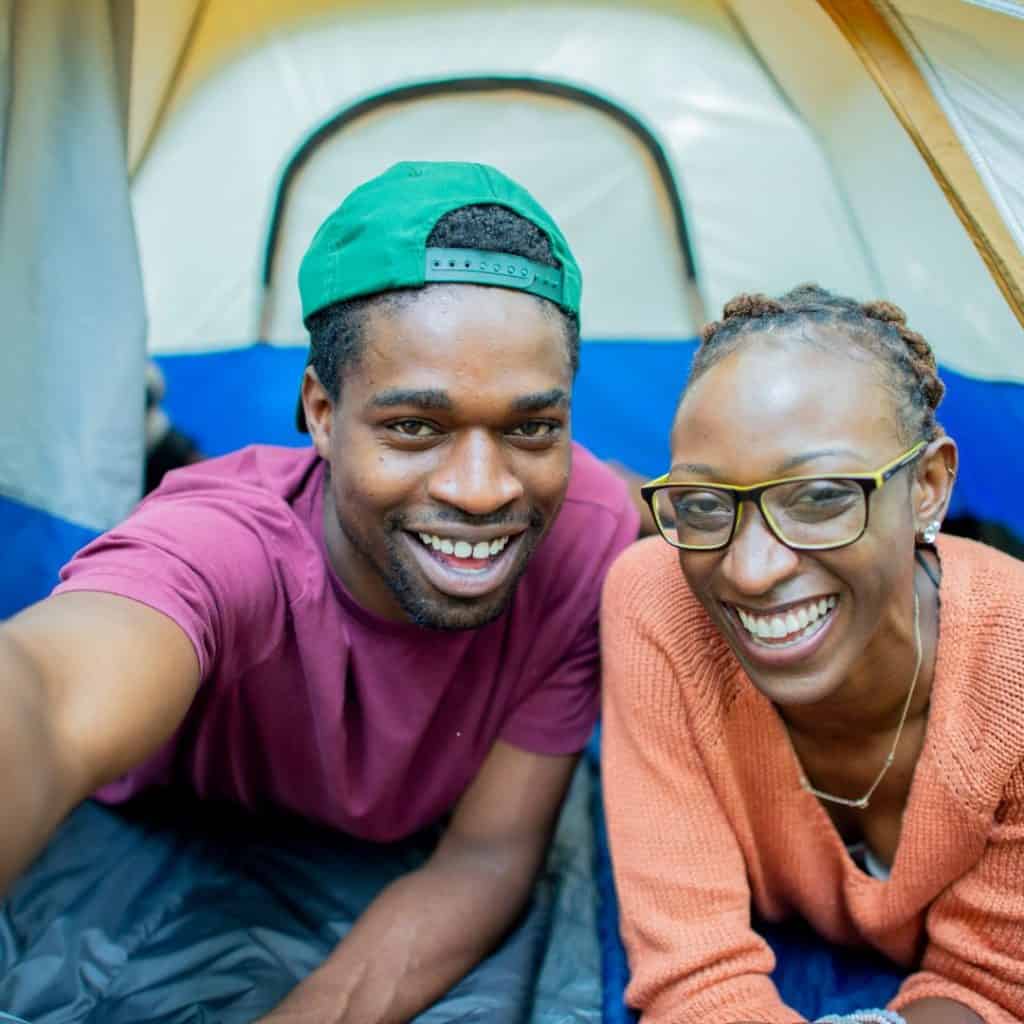 11. Pitch a tent
Pitch a tent in your backyard and enjoy a fun date night under the stars.
There's nothing like listening to the sounds of nature as you snuggle with your partner under the stars.
This is a great way to spend time together away from the distractions of home without having to worry about finding a babysitter or spending money on a hotel room.
If you don't have a tent, here is a small and affordable tent perfect for a backyard date night. And don't forget the flashlights, blankets, and pillows.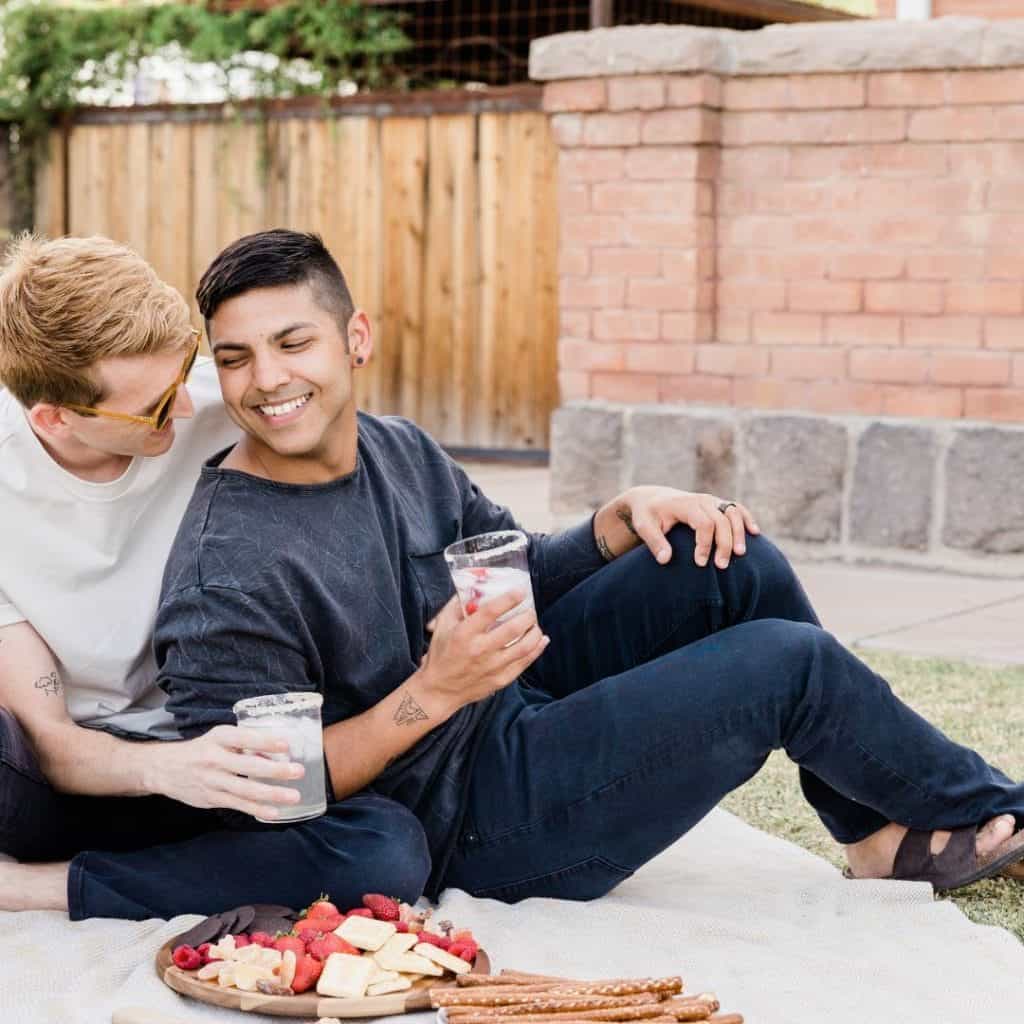 12. Picnic in the backyard
If the weather is nice, head to your backyard for a relaxing picnic for two. It's a great way to spend some quality time together while enjoying the outdoors.
Plus, it's a lot cheaper than going out to eat!
Just make sure you have everything you need before you start – blankets, pillows, food, drinks, napkins, and anything else you might want. This picnic kit has everything you'll need.
Once you're all set up, relax and enjoy each other's company.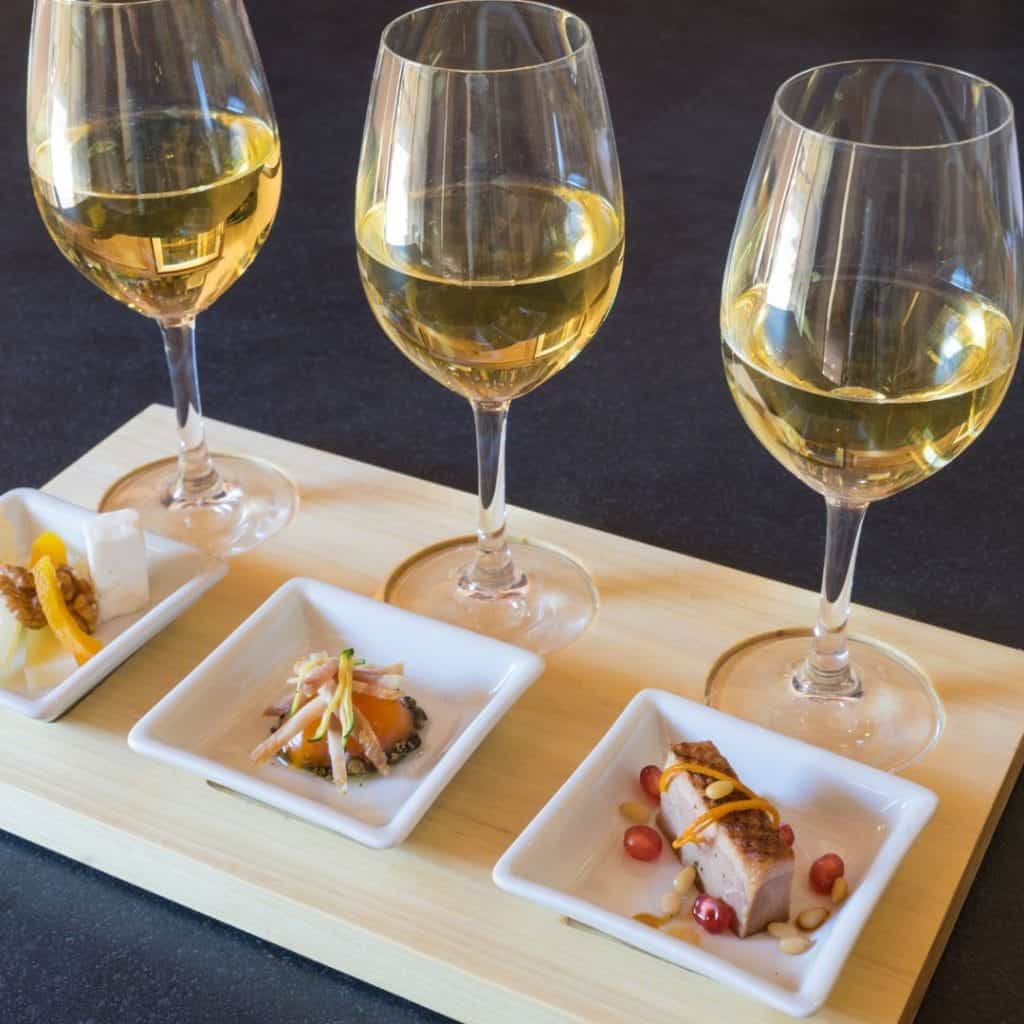 13. Wine or whiskey tasting
Whether you're a wine lover or a whiskey aficionado, doing a tasting at home is a great way to enjoy a date night in.
All you need is a few different bottles of your favorite beverage or try a tasting service like Flaviar or In Good Taste.
Then grab some cheese and crackers and a comfy spot to sit. You can take turns trying the different drinks and talking about the flavors you taste.
And if you get a little buzzed in the process, all the better!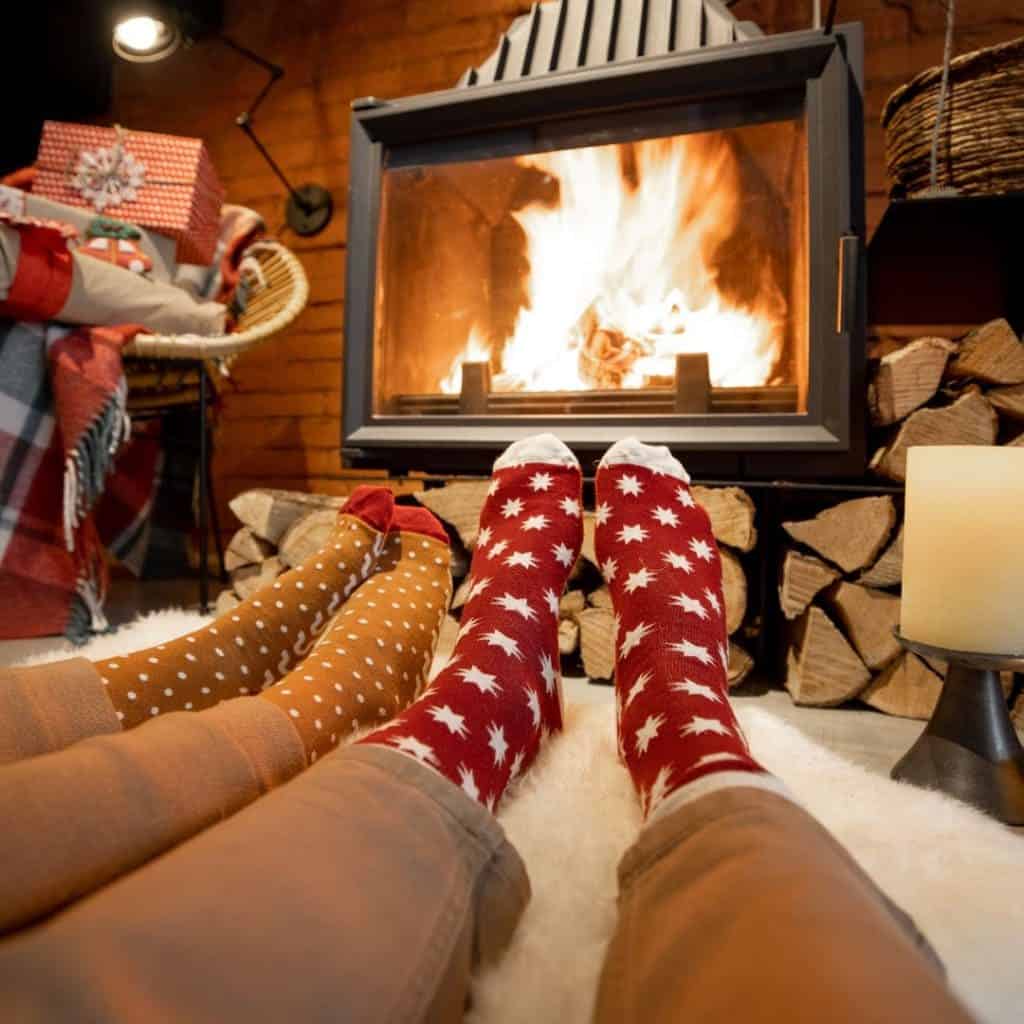 14. Snuggle by the Fire
There's something so mesmerizing about watching the flames in a fire dance.
It has a way of melting away stress, plus it's a great way to stay warm on cold winter nights.
For a relaxing date night, turn on the fire and snuggle up with your partner.
If you don't have a fireplace in your home, this YouTube video will turn any TV or device into a fireplace.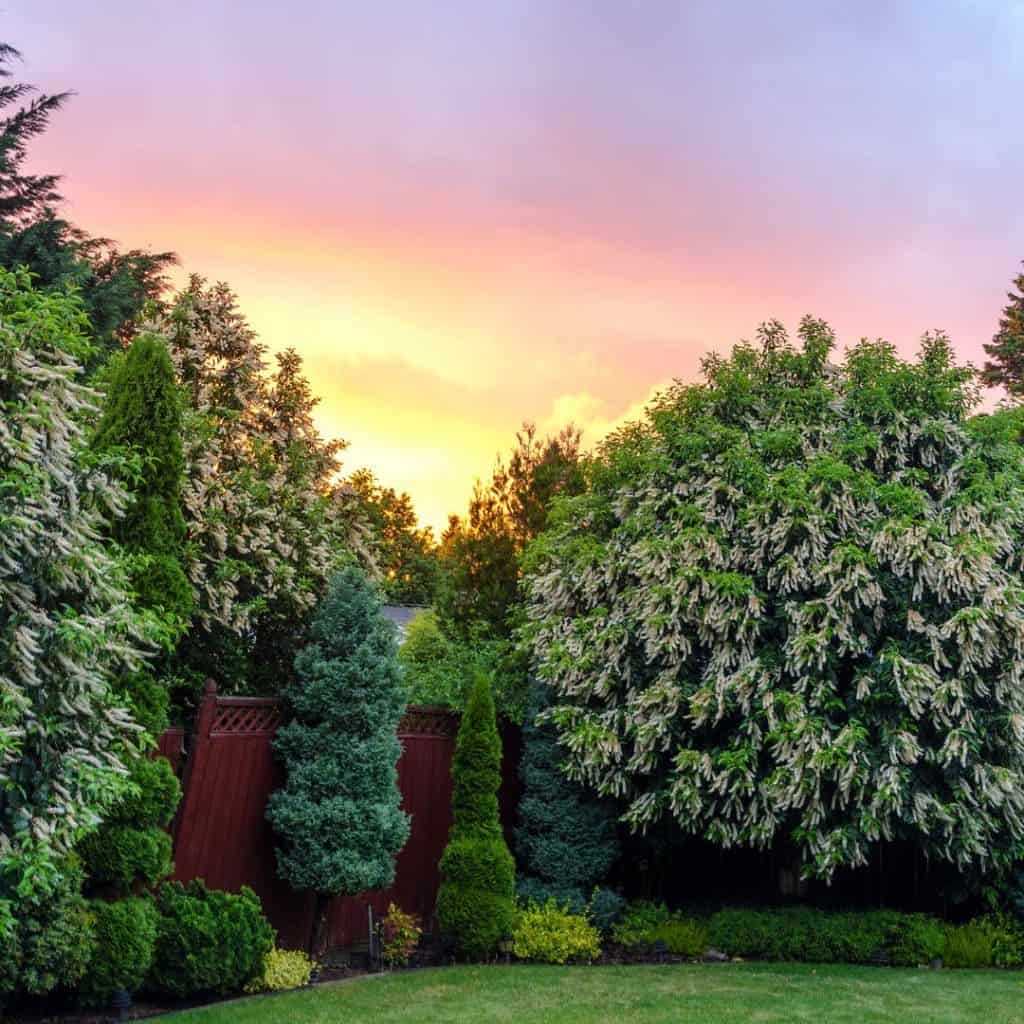 15. Watch the Sunset
If you're looking for a romantic evening at home, why not watch the sunset together?
It's the perfect way to unwind and enjoy each other's company.
There's something incredibly peaceful about watching the sun dip below the horizon.
Make sure to set out a blanket, snacks, and cocktails to make it extra special.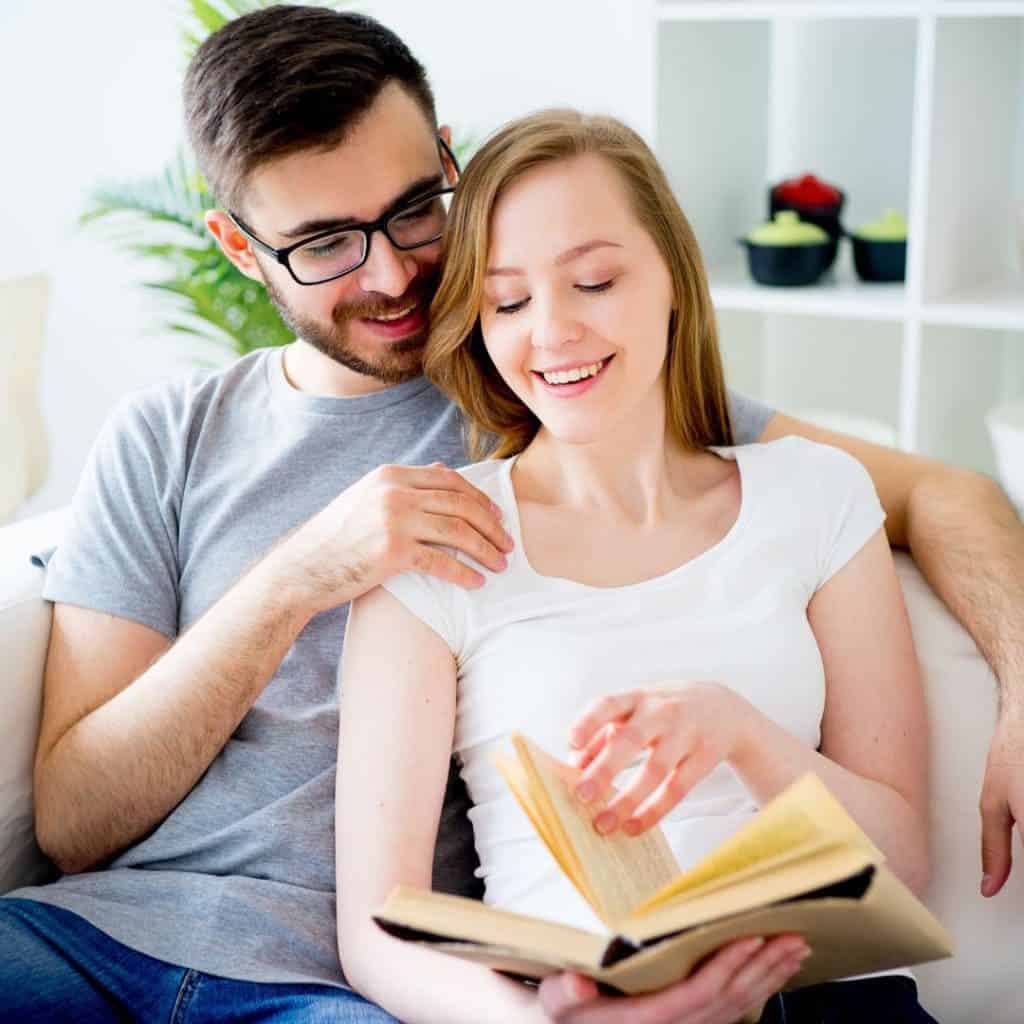 16. Read a Book
You can take turns reading aloud to each other or simply enjoy reading the same book side by side.
This is a great way to unwind and connect with your partner on a deeper level.
To get things steamy, select an erotic novel.
This can be a great way to get each other in the mood while also enjoying some quality time together.
Pick out a steamy novel that you're both interested in and spend an evening reading it aloud to each other. You can take turns reading or take turns picking out different sections that turn you on.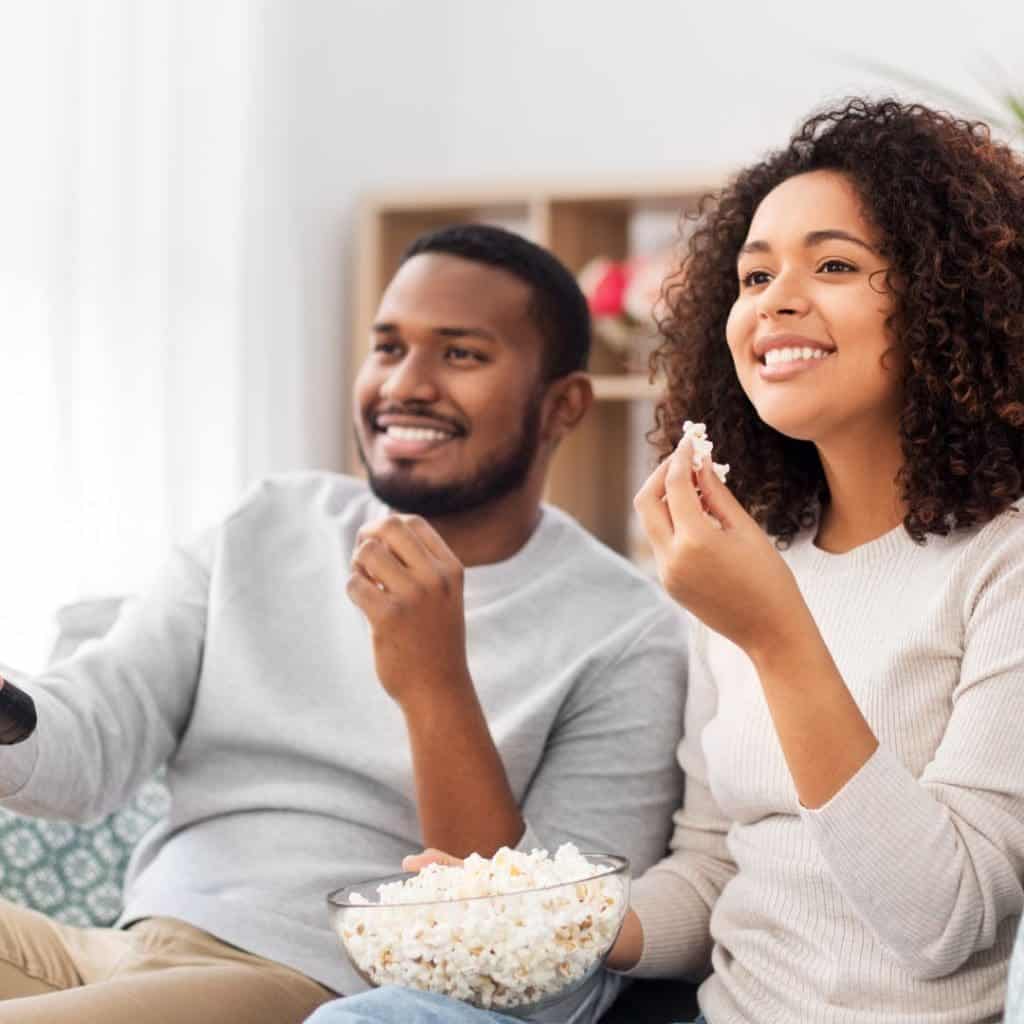 17. Watch a Romantic Movie
Pop some popcorn and snuggle up on the couch with your partner for a classic date night experience. While this date may be overdone, it's a classic for a reason.
There's nothing like escaping to a good movie for a couple of hours after a long week at work.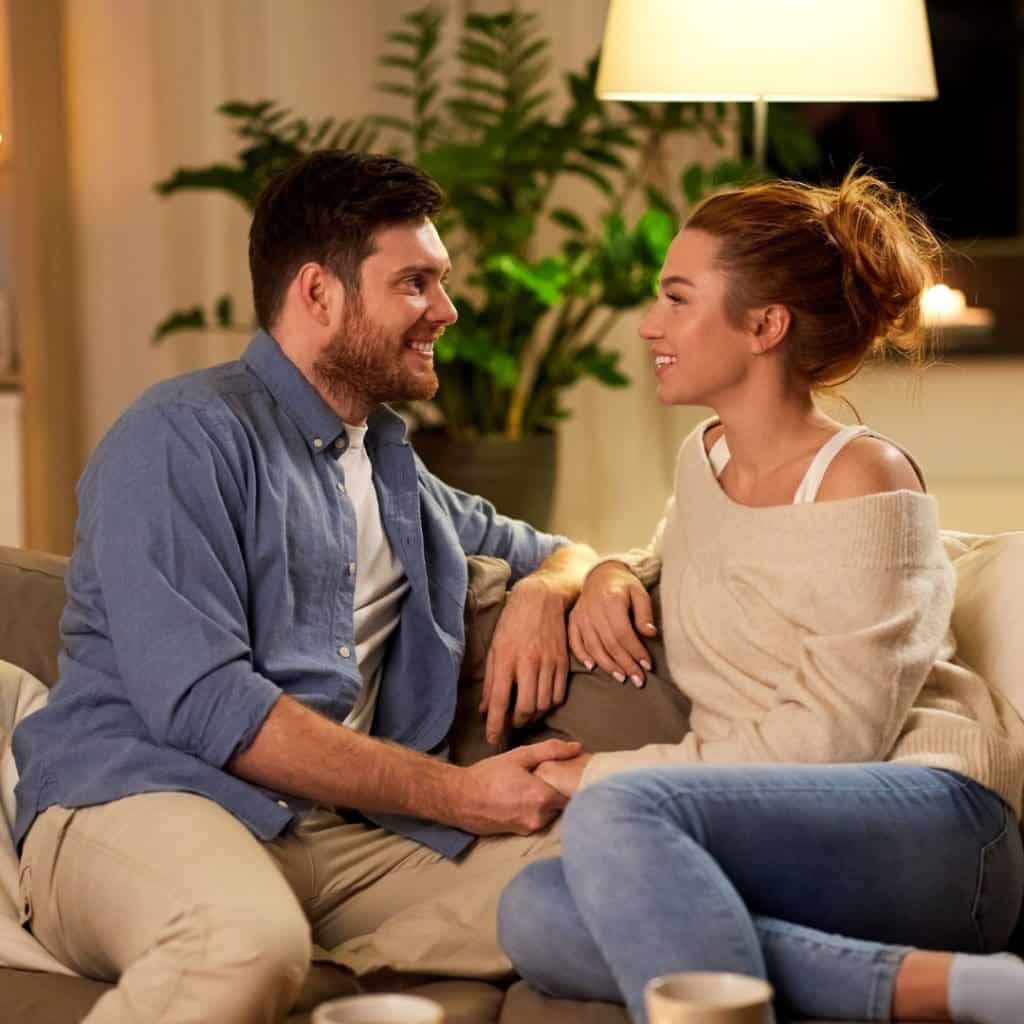 18. Unplug and Go Deep
We all know how easy it is to get sucked into our phones, laptops, and TVs.
But spending too much time looking at screens can take a toll on your relationships.
If you'd like to spend some quality time with your partner, simply unplug from electronics and have a deep conversation instead. (What did you think we meant by go deep?)
Turn off your phones, put away the laptops, and sit down with your partner.
Talk about things that are important to you, things that are bothering you, or just anything that's on your mind.
This is a great way to connect with your partner on a deeper level, and it can be really enlightening!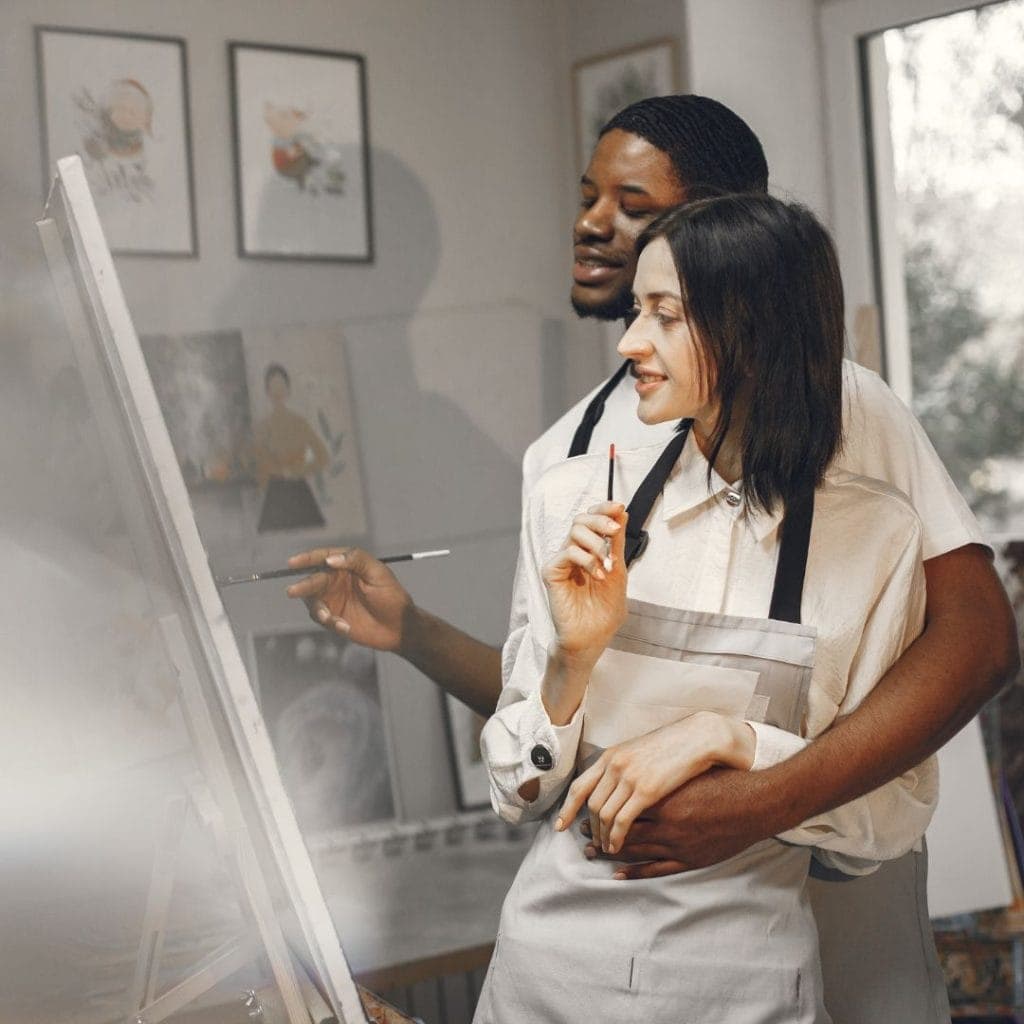 19. Paint by Number
Working alongside your partner to create a piece of art is a great way to relax and bond with one another.
Plus, it's a fun activity that'll result in a beautiful piece of art that you can hang up in your home.
All you need is a paint-by-number kit this like one and a little patience.
Start by setting up your workspace. Then, follow the numbers on the canvas to paint in the corresponding colors.
Once you're finished, step back and admire your work of art. You'll be amazed at what you two were able to create together.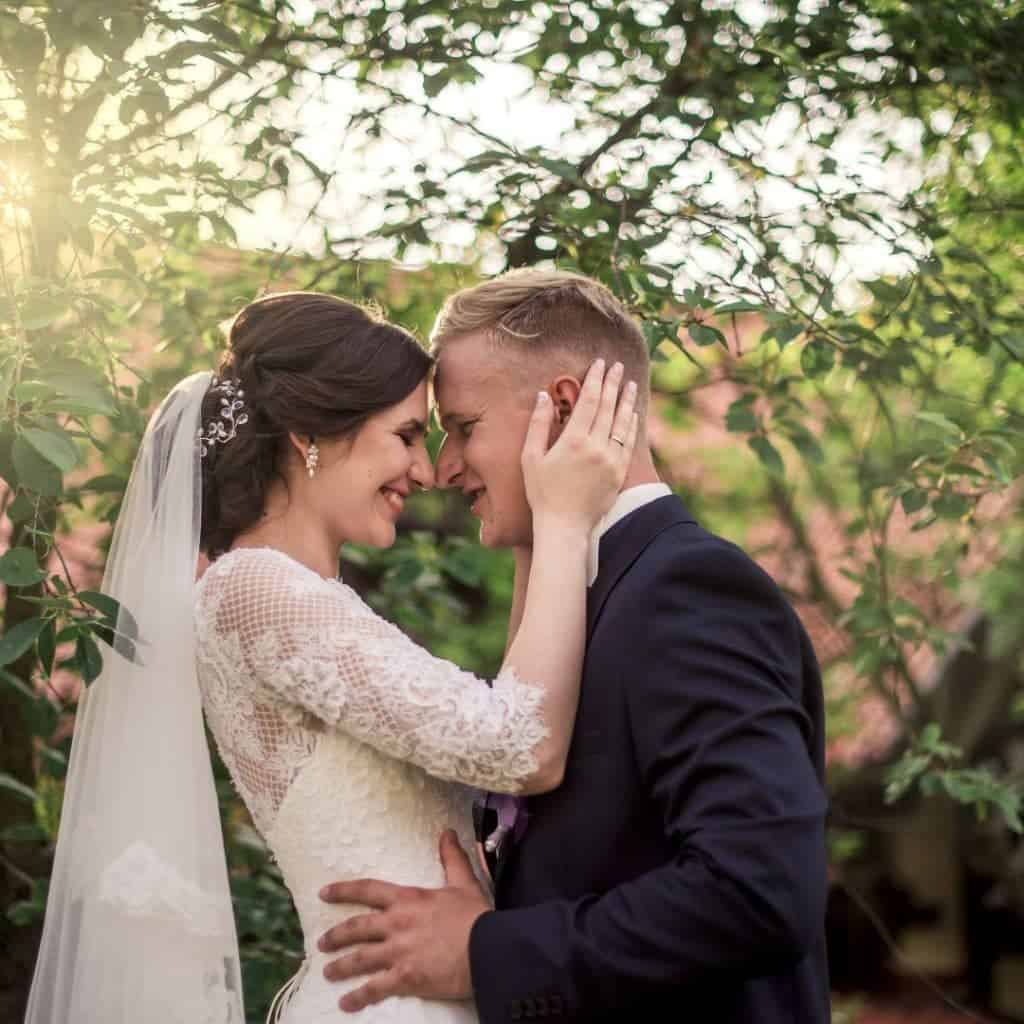 20. Watch your Wedding Video
If you and your partner are married, watch your wedding video together!
This is a great way to reminisce about your big day and all of the special moments that you shared.
You can even make it into a game by seeing how many things you can remember about your wedding day while watching the video.
If you're not married, find videos from when you first started dating and watch those instead.
This is a fun and unique way to spend some quality time together while also getting a little nostalgia fix.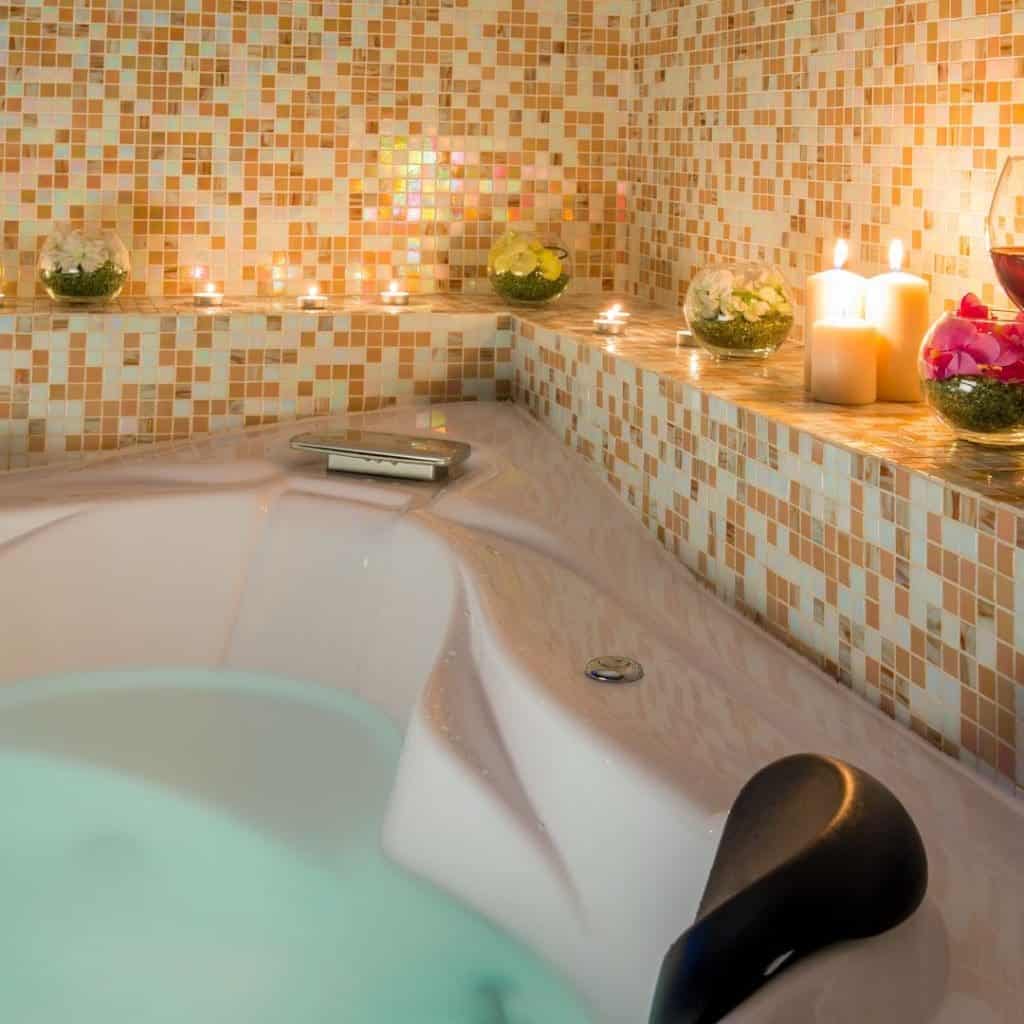 21. Take a bath
There's nothing quite like a relaxing bath together to help you relax and bond with your partner.
For the ultimate relaxing experience, add some soothing aromatherapy or add a few drops of lavender oil to the bath.
Have a glass of wine and some strawberries ready to enjoy while you relax in the tub, and you've got the perfect setting for a relaxing and romantic evening with your partner.
To make your bath even more enjoyable, try out new soaps and oils or play some naughty games.
You might just find it's the perfect way to relax, connect, and have some fun with your partner.
22. Play Card Games
One of the most classic games out there, playing cards together is a great way to relax and have fun with your partner.
There are so many different card games to choose from, so you can tailor it to what you both like.
If you want to keep things simple, try playing Go Fish or War. For something a bit more challenging, try your hand at gin rummy or poker.
How to Find Time for Date Night
Now that you have 22 date ideas, the challenge is finding time for your date night.
It can be difficult to find time for date nights with your partner if you have kids or work long hours, but it is important to make time for your relationship.
We suggest scheduling a regular time each week for a date.
And it doesn't have to be Friday or Saturday nights. Find a time that works best for you.
For example, every Tuesday night or every Sunday morning. Schedule the time on your calendar in advance and make it a priority by sticking to the plan.
After a few weeks of regular dates, your co-workers and children will learn not to disturb you during this time.
Cheers to date night! ❤️️
---
For more date ideas, read 26 At-Home Date Ideas for Active Couples.